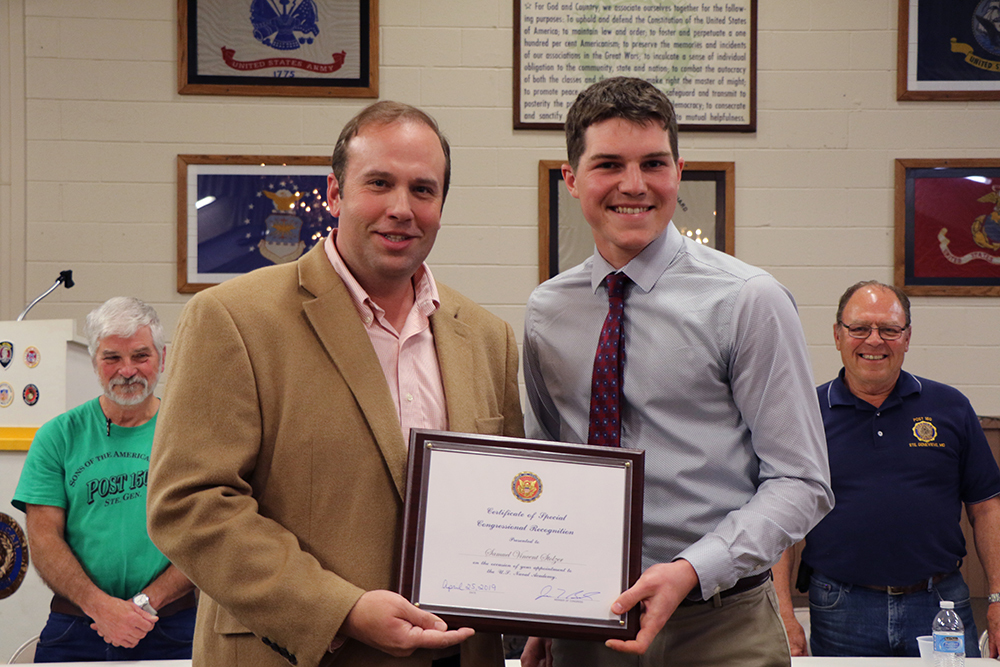 Rep. Jason Smith Attends Annual County Government Day
Bailey Otto
Monday, April 29, 2019
Ste. Genevieve High School students joined their peers from Valle Catholic High School on Thursday, April 25, during the annual County Government Day, where they spent the morning shadowing local government officials in order to learn more about the day-to-day activities of a local government. This year, U.S. Rep. Jason Smith, R-MO, attended the luncheon to recognize Ste. Genevieve High School senior Sam Stolzer on his being accepted into the United States Naval Academy in Annapolis, Maryland.
After spending the morning with an elected official, the students attended a luncheon sponsored by the American Legion before heading to the county jail for a tour. During the luncheon, Rep. Smith introduced himself and offered an overview of his duties as the U.S. Representative for Missouri's 8th congressional district. He explained how he first became interested in running for an elected office as a high school student in Salem, Missouri. He then introduced senior Sam Stolzer, who is headed to the east coast to follow his dream of serving in the military. The United States Naval Academy is a highly-ranked four-year public college whose attendees graduate as commissioned officers.
With a 9% acceptance rate, the academy is extremely selective, and the application process is rigorous. Students must be nominated (by a senator, member of congress, current naval officer or veteran); undergo a personal interview; and submit SAT or ACT scores, a medical exam and a fitness assessment, along with several forms. Sam received a nomination from both Rep. Smith and former Missouri Senator Claire McCaskill, D-Mo.
After Sam's recognition, every student who participated in the day's events had the chance to tell the crowd what they had learned from their experience in county government. For many students, these positions and their duties were not exactly what they had expected; the governmental processes were far more involved than they had thought!
The SGHS students participating in County Government Day included: Abigail Bates, Peyton Bieser, Caleb Brewer, Clayton Huck, Julia Koetting, Macie Manshack, Taylor Matthews, Lauren Mercer, Claudia Michel, Sarah Moore, Robert Muffler III, Curtis Richardson, Alexis Scherer, Nicole Smith, Kayla Steiger, Brooke Weiler.