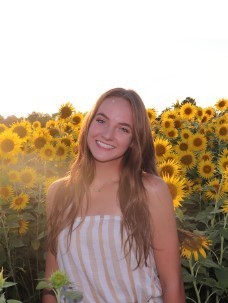 Senior Ella Reed Named October Rotary Student of the Month
Bailey Otto
Monday, October 28, 2019
Congratulations to senior Ella Reed, the Rotary Student of the Month for October from Ste. Genevieve High School! Ella is the daughter of Nicki and Kirk Reed .
Ella's scholastic honors include being ranked in the top 10% of her graduating senior class, earning a place on A Honor Roll each semester, and serving as a member of National Honor Society. Ella also participates as a Mentor, a member of the Fellowship of Christian Athletes and a member of Future Teachers of America.
Ella is also involved in Student Council, where she holds the office of president. Her interactions with STUCO have given her an opportunity to lead others and complete many community service activities. Ella is also her class vice-president. She is a leader by example and has numerous positive interactions with students. She is also a member of the math team and has competed at a number of local competitions.
Ella has received many academic accolades but has also excelled in volleyball, basketball and track as a member of the SGHS teams. She has been chosen as captain in all three of these sports. In her free time, Ella enjoys art, sports and spending time with her friends. She plans to attend Missouri State University and major in graphic design.