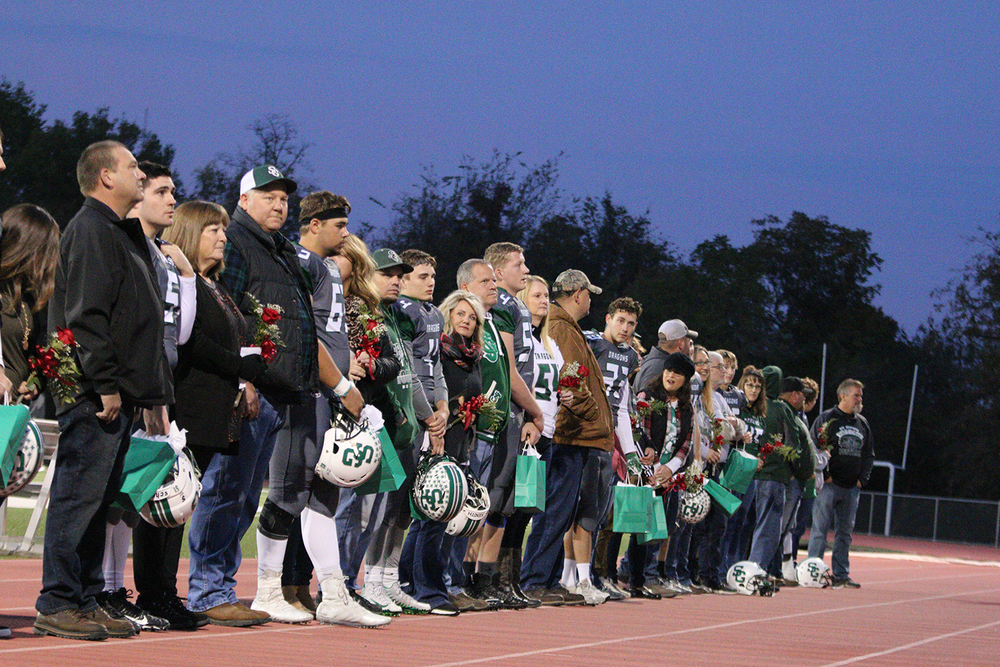 Ste. Genevieve Football Triumphs Over Brentwood at Senior Night
Bailey Otto
Monday, October 28, 2019
At the 2019 Senior Night last Friday, the Dragons ended the night with a 55-14 win over Brentwood. At the end of the game, the seniors stood together to sing the alma mater. Seniors in following sports and activities were recognized before the game: football, cheer, Emeralds, band, cross country and girls golf.
This year, 44 seniors were recognized at Ste. Genevieve High School's Senior Night. The football seniors include: Dakota Arnold-Bonney, Harlee Boyd, Jacob Boyer, Austin Bullock, Alex Derousse, Charles Finley, Coy Flieg, Logan Gegg, Luke Goodwin, Christian Hale, Koby Hatfield, Jacob Hutchings, Jr., Jesse Kemper, Kyle Kiefer, Clayton Kreitler, Austin Kuehn, Zach Litton, Andrew Marzuco, Kaleb Roth, Seth Siebert, Luke Terry, Bryce Trollinger, Evan Walker and Gauge Wiegand. The cross country senior this year is Hannah Duro. The cheerleading seniors include: Katie Beck, Marissa Gegg, Nicholas Giesler, Jadyn LeClere and Hailee Schmelzle. The Emerald senior is Brooke Baird. The band seniors include: Sam Armstrong, Jada Brown, Isabella Donnelly, Abigail Fisher, Alexis Hayes, Erika Reed, Grace Robinson, Ethan Schmelzle and Emily Skaggs. The girls golf seniors include: Bella Burton, Zoe Finley, Josie Geisner and Cami Grass.
Ste. Genevieve High School would like to wish these seniors the best going forward!
*Photos are courtesy of Emma Fisher.