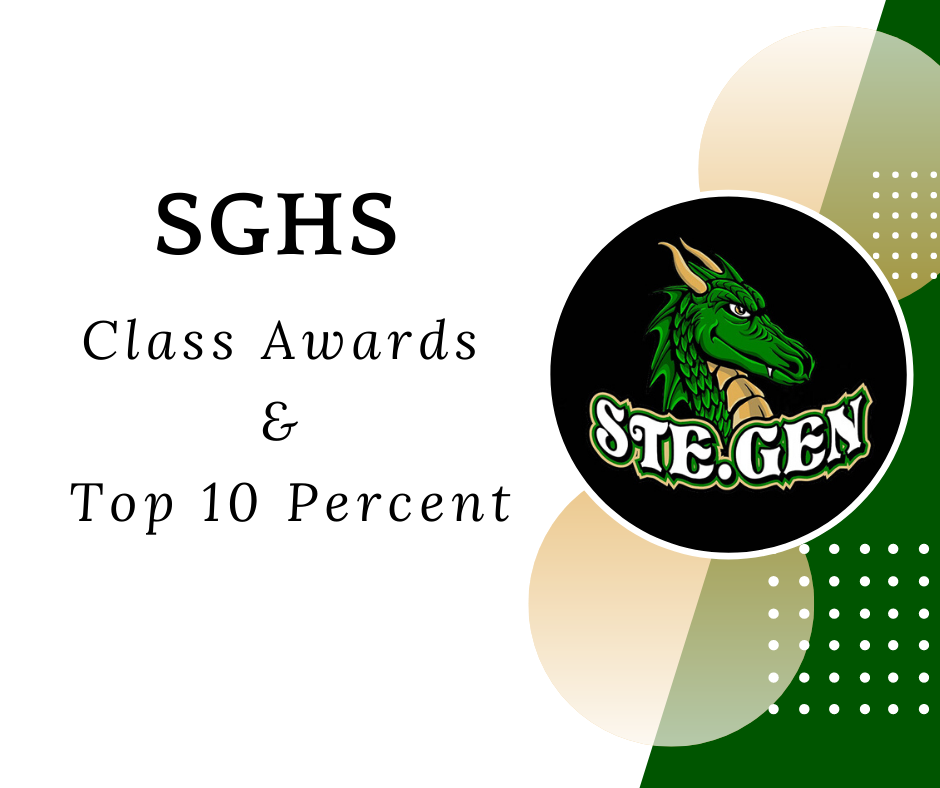 Ste. Genevieve High School Recognizes Students' Academic Achievements
Bailey Otto
Wednesday, June 10, 2020
Even though Ste. Genevieve R-II School District was unable to celebrate our high school students' academic successes at the annual Dan Clark Honors Banquet, we would like to congratulate the students below for their academic achievements during the 2019-2020 school year.
Each year, our district recognizes the high school students in the Top 10 percent of their class, as well as awarding one student for his or her performance for each course offered at our high school. The lists of these students are included below! Congratulations to all of the students on their recognitions!
We would also like to extend a thank you to the sponsors of the annual Dan Clark Honors Banquet: Bloomsdale Excavating, LafargeHolcim, Lhoist and Mississippi Lime.
Virginia Akins - Advanced Biology, Animal Science, CP English III, Western Civilizations
Molly Bahr - Anatomy & Physiology, College Algebra with Applications
Luke Basler - Play Production
Catherine Beck - Cadet Teaching
Kassydey Bohnert - Mythology
Harlee Boyd - Concert Choir
Mariah Boyer - Act Prep
Alison Braun - Trigonometry
Sam Brewer - Intro to Business
Jada Brown - Photoshop, Publications
Sydney Bumgardaner - CP American History, French III, Organic Chemistry, Pre Calculus
Jacob Burgan - American Government
Isabella Burton - Business Tech
Diamond Byrd - Physical SEL (Social-Emotional Learning)
Cameron Carlson - Theatre
Hunter Carron - Foods
Finn Cavanaugh - Fundamentals of Music
Sway Cooper - Freshmen Girls PE
Holly D'Amico - Spanish IV
Christin Davis - German III
Soraya Davis - Media Lit
Drake Delinger - Health
Jaidyn DeRousse - Girls Team Sports
Tracy Deveydt - Advanced Woods
Haley DiMercurio - FACS I
Aiyana Evers - College Algebra
Alyssa Fahnestock - German IV
Austin Fallert - Accounting I, French IV
Charles Finley - Drafting & Design
Kaden Flye - Freshmen Boys PE
William French - Auto Tech II
Katelyn Fuller - Engineering Graphics, Sociology
Logan Gegg- Broadcasting, Introduction to Industrial Technology
Mason Gegg - Spanish III
Whitley Gegg - Digital Media Production, English IV
Josie Geisner - Ceramics
Libbie Geralds - English III
Elizabeth Haas - Geometry
Etta Heller - Ag Science II
Gracie Heob - Biology
Kellen Hogenmiller - Chorale
Alyssa Huber - Statistical Reasoning
Paige Huck - Algebra II, CP American Government
Carter Joggerst - Fish & WildLife, Power Mechanics
Emma Johns - Nutrition & Wellness
Jacob Johns - World History
Jamison Kemper - French I
Kyle Kiefer - Body Conditioning
Russell Kirkhuff - Economics
Dru Koetting- Algebra 1
Kole Kramer - Ag Science I
Austin Kuehn - Public Speaking
Riley Kyle - Residential Wiring
Caitlin Ladd - English II, Intro to Computer Applications
Keaton LaRue - Personal Finance
Josh Laws - Spanish I
Lily Lueken - German II
Julia McKlin - CP English IV, Sculpture
Dalton McNeal - Auto Tech I
Devin Meyer - Creative Writing
Regan Meyer - Drawing
Andrew Miget - Chemistry, CP Biology
Abby Moore - Contemporary Issues, CP English II
Ellie Naeger - Painting
Kyle Naeger - Turf & Landscape
Jasmine Nall - Integrated Math II
Isabella Neel - French II
Viet "Jack" Ngo - Advanced Chemistry
Alex Nickelson - Integrated Science
Genevieve Nickelson - Video Production
Tyson Parker Jr. - American History
Kristen Parmeley - Psychology
Joshua Pelfrey - Guitar
Logan Pfaff - Construction Technology II (PACTC)
Danielle Pinkley - Show Choir
Miranda Ponder - Fundamentals of Art
Hannah Reeves - Journalism
Grace Robinson - Physics, Website Design
Dalan Roth - Woods I
Michael Ruch - Computer Programming, Film
Cody Schilli - Ag Construction
Anthony Smith - Earth Science
Emma Springkamper - World Foods
Klayton Squires - Boys Team Sports
Aaron Stacy - Modern America
Adalynn Taylor - Competitive Speech and Debate, Spanish II, Topics and Research
Ariella Taylor - English I
Bryce Trollinger - Band, Jazz Band
Grant Weiler - Guitar II
Mallory Weiler - Calculus (student at Valle Catholic Schools)
Hannah Whitener- Integrated Math III
Camryn Williams - Child Development
Callie Winch - German I
Maxwell Wright - Adaptive P.E.
Annie Yang - Computer Applications
Top 10% of Class:
Freshmen:
Chayse Bequette
Alli Byington
Lindsey Crump
Collin Fritsch
Jillian Gegg
Braden Huck
Jamison Kemper
Miranda Ponder
Ariella Taylor
Madeleine Terry
Nolan Walls
Lani Yamnitz
Sophomores:
Casey Ayers
Emma Beauchamp
Peyton Bequette
Kaden Buatte
Kylee Clayton
Kaylee Forhan
Serena Garcia
Mason Gegg
Paige Huck
Finnegan Jokerst
Maria Kemper
Russell Kirkhuff
Lily Lueken
Andrew Miget
Abigail Moore
Juniors:
Virginia Akins
Molly Bahr
Breanna Boyd
Mariah Boyer
Alison Braun
Sydney Bumgardaner
Austin Fallert
Katelyn Fuller
Emma Johns
Hannah Reeves
Adalynn Taylor
Alexandra Werner
Annie Yang
Seniors:
Margaret Bauman
Catherine Beck
Christian Boyer
Aiyana Evers
Jaida Greminger
Koby Hatfield
Alyssa Huber
Jared Kenik
Austin Kuehn
Julia McKlin
Kristen Parmeley
Michael Ruch
Evan Walker