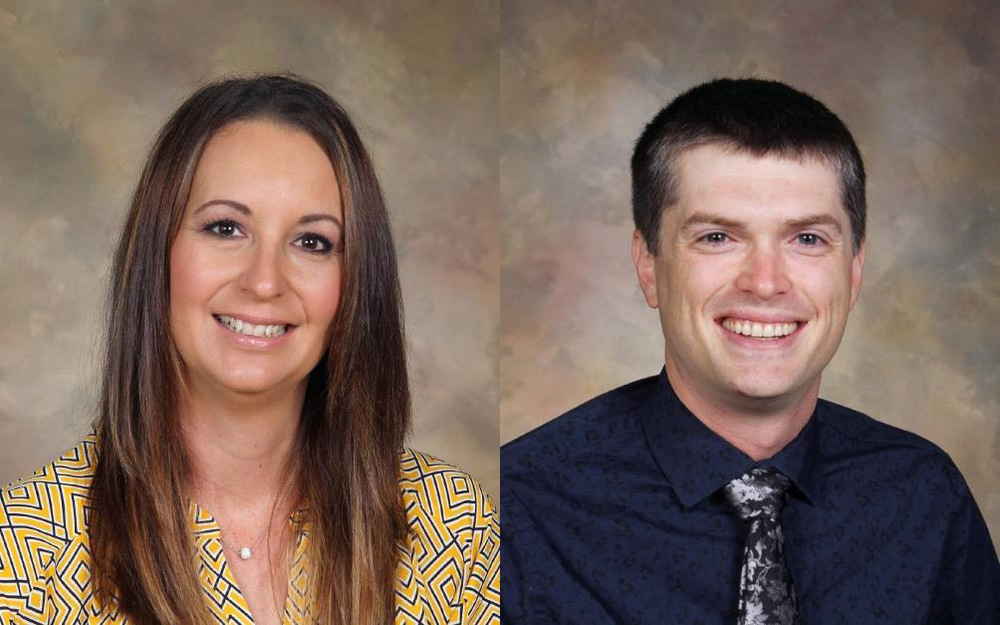 Ste. Genevieve R-II Presents Ste. Genevieve Elementary's New Leadership Team!
Bailey Otto
Friday, July 03, 2020
Ste. Genevieve R-II School District is proud to announce Ste. Genevieve Elementary's new administrative team, Principal Nanya Gegg and Assistant Principal Nathan Kingery! This leadership duo will launch the 2020-2021 school year, and they are excited to get started.
Both Mrs. Gegg and Mr. Kingery have been members of the Ste. Genevieve R-II family for several years, both working as educators in the elementary schools. Mrs. Gegg was chosen for Ste. Genevieve Elementary's principal position for this upcoming year, after spending five years in the assistant principal position. Mr. Kingery is taking his first position as an administrator, after teaching music in the district for 10 years.
Throughout her educational career, Mrs. Gegg has built a wealth of knowledge through her experiences as an assistant principal and as a classroom teacher, including time she spent working with at-risk students. Her approach to building management is always student-centered, and she prioritizes communication to and among faculty and staff in order to facilitate a clear and open work environment.
And whether it was through Mr. Kingery's music program or his work with high school percussion students, his dedication is centered on student learning. With an enthusiasm for imparting knowledge and supporting student progress, Mr. Kingery brings with him an ability to build relationships through learning.
"As a leadership team, we know that Mrs. Gegg and Mr. Kingery will steadily guide Ste. Genevieve Elementary while continuing the school's focus on meeting the needs of its students and fostering a safe and fun learning environment," Dr. Flieg said. "We could not be more excited to have these two SG R-II educators in these roles, and we congratulate them on their new positions."
About Principal Gegg
Mrs. Gegg joined the SG R-II team in 2012, when she took a position at Bloomsdale Elementary teaching fifth grade English-Language Arts and Science. She spent three years at Bloomsdale Elementary before becoming the Ste. Genevieve Elementary assistant principal, a position she held for five years. Mrs. Gegg began her career in education in 1998 in Perry County District 32, where she taught the third and fourth grades, including teaching in an At-Risk classroom.
Mrs. Gegg earned her Bachelor of Science in Education from Southeast Missouri State University (SEMO), a Master of Arts in Teaching from Webster University, and a Master of Arts in Administration and a Specialist in Administration from SEMO. She is currently working toward receiving her Doctorate in Educational Leadership from William Woods University. She holds the following certifications: eMINTS, International Society for Technology in Education (ISTE), Intel Teach, and Behavior Intervention Specialist.
Mrs. Gegg has served as co-chair of the Mission Revision and Motto Development at SG R-II. She has completed the Missouri Leadership Academy, and was a Missouri Leadership Development System Mentor. While at SG R-II, Mrs. Gegg was named Outstanding Assistant Principal by the Missouri Association of Elementary School Principals (MAESP) for the southeast region in 2020, and she was also recognized as a Network for Educator Effectiveness (NEE) Master Scorer.
Educational Philosophy: "Every student can learn, just not on the same day, or in the same way." – George Evans.
About Assistant Principal Kingery
Mr. Kingery first joined the SG R-II family in 2010, when he took a teaching position as a Pre-K through 5th grade music teacher. He spent 10 years teaching both Bloomsdale and Ste. Genevieve elementary students before taking a position as the assistant principal of SGE. Mr. Kingery also taught the SGHS Marching Band percussion section.
Mr. Kingery earned his Bachelor of Music degree in Music Education from Southern Illinois University - Carbondale, his Master of Music degree in Music Education from the University of Missouri - St. Louis, and his Masters of Arts degree in Elementary Administration and his Specialist in Education degree from Southeast Missouri State University.
During his time at SG R-II, Mr. Kingery served on the Dragon Advisory Team and served as the Bloomsdale Elementary PTO Treasurer. He has been a presenter at several conferences, including the Kansas Music Educators Association State Conference, the Tennessee Music Educators Association State Conference and the National Association for Music Education National Conference.
Educational Philosophy: "Ask that your way be long; full of adventure, full of instruction." — "Ithaka" by Constantine