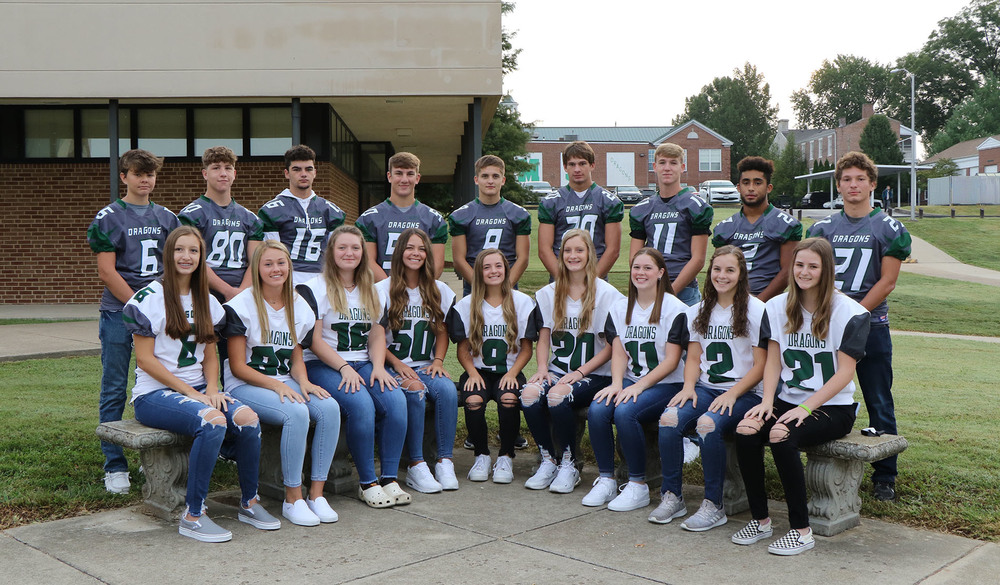 SG R-II Homecoming Details Announced
Bailey Otto
Wednesday, September 16, 2020
While Homecoming will look different this year, SG R-II plans to celebrate during the week of Sept. 21 - 26, 2020. Ste. Genevieve High School has announced the members of the royal court, along with details on the week's activities below.
Each year, the SGHS Student Council plans festivities for Homecoming Week. This year, the group began by creating an outline of the possibilities, striving to anticipate the problems that could arise in each situation, and finding solutions and alternatives. Through collaboration with administration and the Ste. Genevieve County Health Department, the group integrated their feedback and local safety guidelines in order to craft a plan that would work.
"We want Homecoming Week to be a unifying experience," Student Council President Adalynn Taylor said. "Attending school on different days of the week has made it difficult to come together as a school and to really experience this year as a group, even though we understand why it has to be this way right now. Our goal for these experiences during Homecoming Week is to build our sense of togetherness in a safe, responsible way. We are in this together."
Unfortunately, we will be unable to organize a Homecoming Parade this year due to community social distancing concerns. However, among the festivities of Homecoming Week, there will be a Mask-erade Dance.
"Typically, Homecoming is a time where we welcome our alumni back home, where our dragon family comes together to celebrate our school pride and shared traditions. This year, unfortunately, we are not able to host the events that typically celebrate our legacy, but we can focus on our current students, and their experiences during this time," Principal Chris Hoehne said. "Our students have missed out on so much these past several months, and they have done so with leadership, patience, and an understanding that is beyond their years. We are incredibly proud of them, and we want to do all that we can to make their 2020 Homecoming experience very special."
Homecoming Court:
Freshman Attendant: Hope Schmelzle, Russell Clayton

Sophomore Attendant: Tessa Grass, Jacob Johns

Junior Attendant: Haley Dimercurio, Tanner Weiler

Queen Candidates: Molly Bahr, Sydney Eisenbeis, Marysa Flieg, Brittney Kreitler, Emma Johns, Maci Reynolds

King Candidates: Bret Bieser, Zachary Burr, Chaytin Lea, Payton Matthews, Anthony Nash, Landon Rose
Pictured from left: Front — freshman attendant Hope Schmelzle, daughter of Keith and Julie Schmelzle; junior attendant Haley DiMercurio, daughter of Joseph and Tiffany DiMercurio; queen candidate Emma Johns, daughter of Jeffrey and Angela Johns; queen candidate Sydney Eisenbeis, daughter of Kathy and Rick Eisenbeis; queen candidate Maci Reynolds, daughter of Ann and Jamie Reynolds; queen candidate Marysa Flieg, daughter of Julie and Jason Flieg; queen candidate Molly Bahr, daughter of Darla and Jeff Bahr; queen candidate Brittney Kreitler, daughter of Tim and Michelle Kreitler; sophomore attendant Tessa Grass, daughter of Julie and Steve Grass; Back row — freshman attendant Russell Clayton, son of Melanie and Russ Clayton; junior attendant Tanner Weiler, son of Curt and Pat Weiler; king candidate Payton Matthews, son of Bryan and Jaime Matthews; king candidate Zachary Burr, son of Kevin and Lisa Burr; king candidate Landon Rose, son of Makenzie Beckham and Jason Rose; king candidate Bret Bieser, son of Keith Bieser and Kelly Cummings; king candidate Chaytin Lea, son of Justin Lea; king candidate Anthony Nash, son of Susan and Rusty Nash; sophomore attendant Jacob Johns, son of Angela and Jeffrey Johns.
Schedule of Events and Activities:
Class Hallway Decorating:
In place of float building, the four classes will decorate their class hallways following a seasonal theme: seniors will decorate with a winter theme, juniors with a summer theme, sophomores with a fall theme, and freshmen with a spring theme.
Canned Food Drive:
With a goal of helping local food banks prepare for the winter season and to give back during their busiest time of the year, the four classes will host a competition to see which class can collect the most canned goods. The goal is to reach 2,000 cans for the high school, or 500 cans per class. Class sponsors will take collections.
PowderPuff: Wednesday, Sept. 23, starting at 6:30 p.m.
The traditional PowderPuff game will take place, but with some changes. The PowderPuff game will be held on Wednesday, Sept. 23, starting at 6:30 p.m. Players must earn points to participate in the game by collecting canned goods for the Food Drive and through hallway decorating. There will be no organized practices before the game this year. All participants must wear face coverings on the sidelines. There will be no team huddles, and there will be no student coaches this year. Face coverings will be required unless spectators are seated. That includes wearing them when entering, exiting, or transitioning to and from seats (using the restroom, visiting the concession stands, etc.).
Pep Rally: Friday, Sept. 25, from 1:30 - 3:30 p.m.
This Pep Rally will be held on Friday, Sept. 25, from 1:30 - 3:30 p.m. Attendance is optional for SGHS students, but there will be plenty of room to space out the students and host the typical Pep Rally events. (Spirit Night is typically held on Wednesday, and the Pep Assembly is typically held on Friday, but these two events will be combined into this one Pep Rally.)
Homecoming Game: Friday, Sept. 25 at 7 p.m.
High school student attendance will be determined based upon the number of students interested in attending and the ability to social distance in designated areas. Students will be seated in a particular area and will social distance appropriately. Students attending will pay the $2 admission. More information will be shared with students soon regarding attending the game.

Admission limitations for spectators include:

The number of spectators will be limited. Each player/cheerleader/Emerald/band member will be given 4 - 5 tickets to hand out to family and friends.

Visitors with tickets must pay admission at the gate.

Families should sit together and strive to socially distance 6 feet from other families and visitors.

The visiting school will have the same number of visitors and tickets allowed.

Home and visitor seating will be designated and enforced.

Face coverings will be required unless visitors or students are seated. That includes wearing them when entering, exiting, or transitioning to and from seats (using the restroom, visiting the concession stands, etc.).

The Homecoming game and half-time will be live-streamed on the district' s Youtube Channel, SG DragonTV.
Mask-erade Dance: Saturday, Sept. 26, from 8 - 10 p.m
A Mask-erade dance will be held on the football field on Saturday, Sept. 26, from 8 - 10 p.m.

Students worked with administration and the Ste. Genevieve County Health Department to organize this dance using all necessary safety precautions.

Students must wear masks at all times. The school will also provide a shield as part of the $10 admission.

Sanitation stations will be located throughout the football field area.

There will be no person-to-person contact.

No outside dates will be allowed.

The dress code will be less formal.

The school will provide closed containers of bottled water for students to drink.
Athletic Events:
Monday: Sept. 21

Freshman football vs. Potosi at 6 p.m.
Tuesday: Sept. 22

Girls Golf at Farmington: 4 - 7 p.m.

Freshmen, JV, and Varsity Volleyball at Saxony: 4:30 - 8:30 p.m.
Thursday: Sept. 24

JV and Varsity Volleyball vs. Desoto: 5 - 9 p.m.
Spirit Days:
Monday and Tuesday: Wear Your Favorite Jersey

Wednesday and Thursday: Tie Dye (Wear all the tie-dye clothes you can)

Friday: Green and White Day