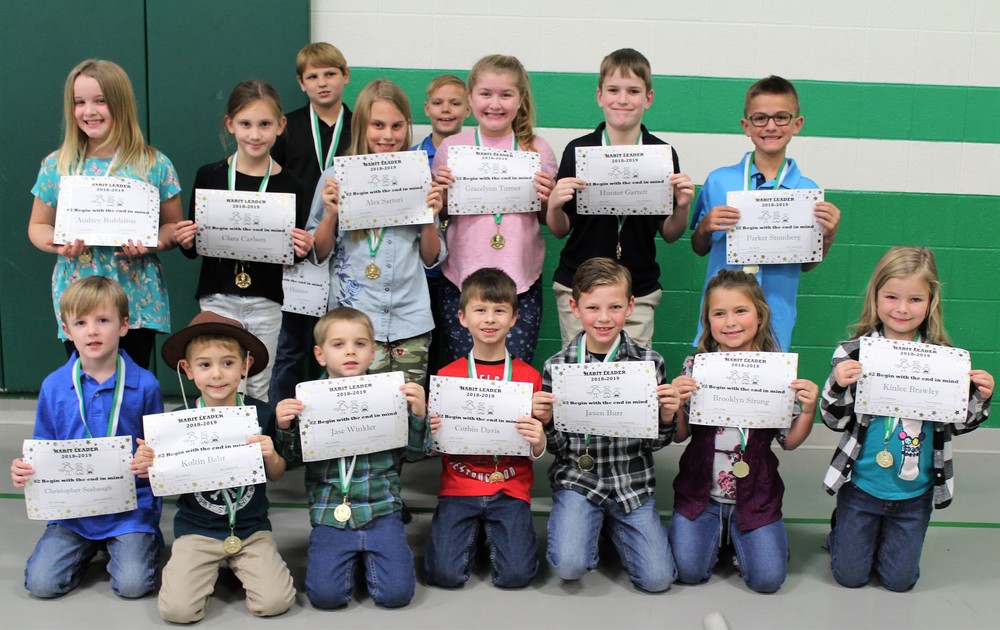 BLE Hosts Habit Leader Ceremony
Nancy Toombs
Wednesday, December 12, 2018
Bloomsdale Elementary held it first ever Habit Leader Ceremony on Monday, November 26. This ceremony honored students that were chosen by their teacher for displaying the qualities of a Habit 1 Leader: Be Proactive or a Habit 2 Leader: Begin with the End in Mind. Students were awarded a certificate, medal, and a t-shirt thanks to numerous family and business sponsorships in the area.
Students had the pleasure of inviting special guests like parents, siblings, grandparents, etc to this important event. There was a guest speaker that evening as well, Mr. Tyson Schaffner, former SGHS graduate and the founder of the Patched Overalls program. Mr. Schaffner relayed great messages to the students and also told of how he uses Habit 1 and Habit 2 in his daily life. He told them to "Dream Big and Live Bigger".
Bloomsdale Elementary would like to congratulate the Habit Leader award winners and would like to thank all of the sponsors that helped make this event a success.
Kennedy's Catchall and Auction House
The Crocker Family
BLE's Mighty Men Lead Group
Steiger Jewelers
The Ferranto Family
Kelli Williams Photography
The Stomberg Family
Trilogy Dance Studio
Critter Barn Kidz Care
Mid-west Marketing-Amanda Schwent
Bloomsdale Recycling
ST Gear and Machine LLC
Equipment Pro
JS Dunnigan Truck Line
Drury Contracting
Little Explorers
Drury Chiropractic
Gansner Excavating and Grading
Ernie Weiler-Farm Bureau
Dust Demolition by Dee