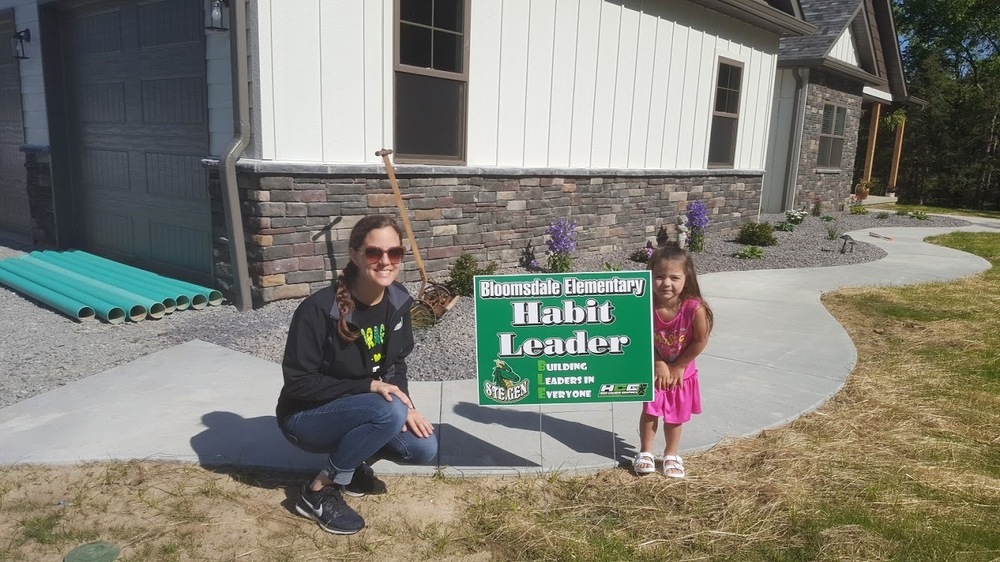 Bloomsdale Elementary Celebrates Habit Leaders
Bailey Otto
Wednesday, June 24, 2020
Congratulations to Bloomsdale Elementary students chosen as Habit Leaders! These students are chosen as Habit Leaders by living and learning the 7 Habits of Highly Effective People each and every day. They show tremendous leadership, follow expectations and lead the way for their peers.
The teachers organized by grade level and surprised students at home with yard signs to celebrate on Monday, May 11! The students were chosen as leaders for Habit #6 (Synergize), Habit #7 (Sharpen the Saw), and Habit #8 (Finding Your Voice). This activity was organized by the Shared Leadership Action team at Bloomsdale Elementary, and third grade teacher Dana Bowen also organized a slide show for the students in lieu of the habit leader ceremony. Congratulations to these students on their recognition!
Habit #6: Pre-K: Riley Akins; Kindergarten: Cheyenne Jacobs, Kaydee Oehlert, Lukas Palmer, Alice Seabaugh; 1st Grade: Izabella Basile, Gaige Nadeau, Maya Winters; 2nd Grade: Isabella Weis; 3rd Grade: Alice McConkey, Kinnley Palmer, Ella Springkamper; 4th Grade: JD Dunnigan, Alyssa Gibson, Rihana Hoskins; 5th Grade: Wyatt Crocker, Riyley Dutton, Hazel Schwent.
Habit #7: Pre-K: Bailey Winch; Kindergarten: Mollie Gibson, Brantley Langan, Georgia Stewart, Garrett Winkler; 1st Grade: Zander Bates, Jozie Burr, Judd Cage; 2nd Grade: Lillian Cremer, Carter Jokerst, Colin Rowland; 3rd Grade: Stefano Basile, Joshua Crossland, McKynzie Lindsey; 4th Grade: Gabriel Bley, Robert Rehm, Adalynn Venz, Azalia Zerwig; 5th Grade: Launa Gegg, Jake Parker, Maggie Price.
Habit #8: Pre-K: Izabella Chimento; Kindergarten: Zander Braun, Jace Gettinger, Liam Hughes, Loudon Jokerst; 1st Grade: Quaid Fleeman, Adyson Hughes, Bella Nazzoli; 2nd Grade: Megan Keith, Donovan Turpin; 3rd Grade: Makayla Berkbigler, Harper Drury, Callie Huck; 4th Grade: Chassidy Blankenship, Daymian Cavenar, Wyatt Everard, Kamdyn Wehner; 5th Grade: Josie Sansoucie, Joshua St. Clair, Gracie Turner, Katie Vogt.