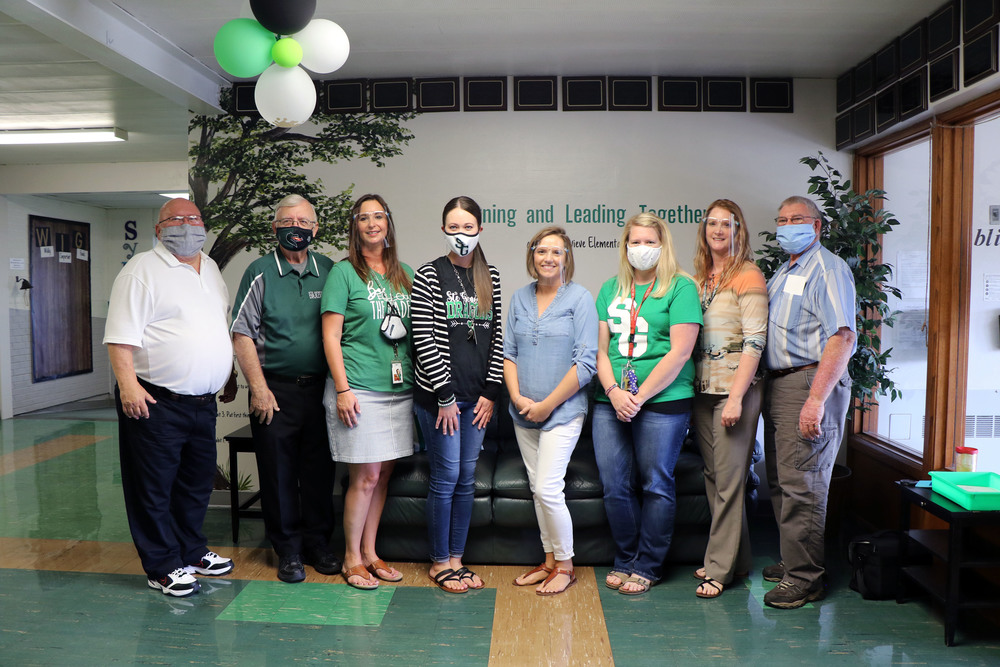 Three SG R-II Teachers Receive 2020 Missouri Retired Teacher Foundation Grants
Bailey Otto
Tuesday, September 15, 2020
Congratulations to three Ste. Genevieve R-II School District educators who were each recently chosen as a recipient of a $500 grant from the Missouri Retired Teachers Foundation (MRTF). Bloomsdale Elementary kindergarten teacher Ashley Gettinger, Ste. Genevieve Elementary kindergarten and first grade teacher Stephanie Sulser, and Ste. Genevieve High School special education teacher Traci Roemer were the three recipients from Ste. Genevieve R-II School District.
The Missouri Retired Teachers Association (MRTA) encompasses 14 regions statewide and over 140 local units. Ste. Genevieve County is located in Region 11, which also includes nine other counties. This year, eight grants were bestowed to teachers in Region 11 to be used for classroom supplies. Of those eight grants, three teachers are from SG R-II! Congratulations to our teachers on receiving these funds to bolster their students' educational experiences this year.
The district would like to thank the Missouri Retired Teachers Foundation for funding the following supplies and projects for our classrooms. Their generous support will go toward building our students' skills, knowledge and confidence in learning.
Starting the Year off "Write!"
Mrs. Gettinger's goal is to help her students foster a love of writing at an early age. She requested Boogie Board tablets, which are electronic tablets that students can use to write and draw using a stylus. She also requested a large dry erase table for her classroom. These resources will provide a fun, different and quick method of practicing. Students can erase quickly and easily and try again and again. The boogie boards and dry erase table will assist students in learning to write letters, words, and sentences, as well as giving them a new space to create stories, pictures, poems and other writing pieces at their own pace.
Finding Your Voice
Mrs. Sulser focused her grant on the 8th Habit, "Find your voice and inspire others to find theirs." where students find their voice in every setting. Ste. Genevieve Elementary is a Leader in Me school, where students learn personal-leadership principles through the eight habits. With her funding, Mrs. Sulser received two Q-Ball microphones, which are wireless spherical microphones covered in foam that teachers can toss to their students from around the room, and the students can speak into the microphones loud enough for the class to hear what they are sharing. Mrs. Sulser was also able to order two handheld Bluetooth microphones that can connect to a laptop when students in the SGE Leadership Group interview others. Mrs. Sulser planned to offer these resources to all of Ste. Genevieve Elementary classes, to create an impact outside of her classes and throughout the school.
Sparking an Interest in Reading
Mrs. Roemer focused her application on sparking a love of reading with students through the use of graphic novels. She requested a list of graphic novels for her students who struggle in the areas of reading and writing, with a hope that these books would help her students gain confidence in reading and build life-long skills through the benefits of reading comprehension that graphic novels offer. Mrs. Roemer requested a list of texts that are diverse in nature, and that will expose her students to relatable and diverse texts to hold their interest and build connections. The novels included: "The Crossover: Graphic Novel" by Kwame Alexander, "The Unwanted: Stories of the Syrian Refugees" by Don Brown, "They Called Us Enemy" by George Takei, and "Hey, Kiddo" by Jarrett J. Krosoczka.
***
The Missouri Retired Teachers Association (MRTA) is an association of retired educators whose purpose is to promote the professional, social, and economic welfare of all retired school employees. MRTA was organized in December 1960. According to the MRTA website, the association includes nearly 27,000 members.
***
The Missouri Retired Teachers Foundation was created in 2001 by the Board of Directors of the Missouri Retired Teachers Association as a not-for-profit organization. The Foundation is devoted to raising funds to carry out certain charitable, educational, scientific, and literary purposes of the Missouri Retired Teachers Association and Public School Personnel (MRTA).