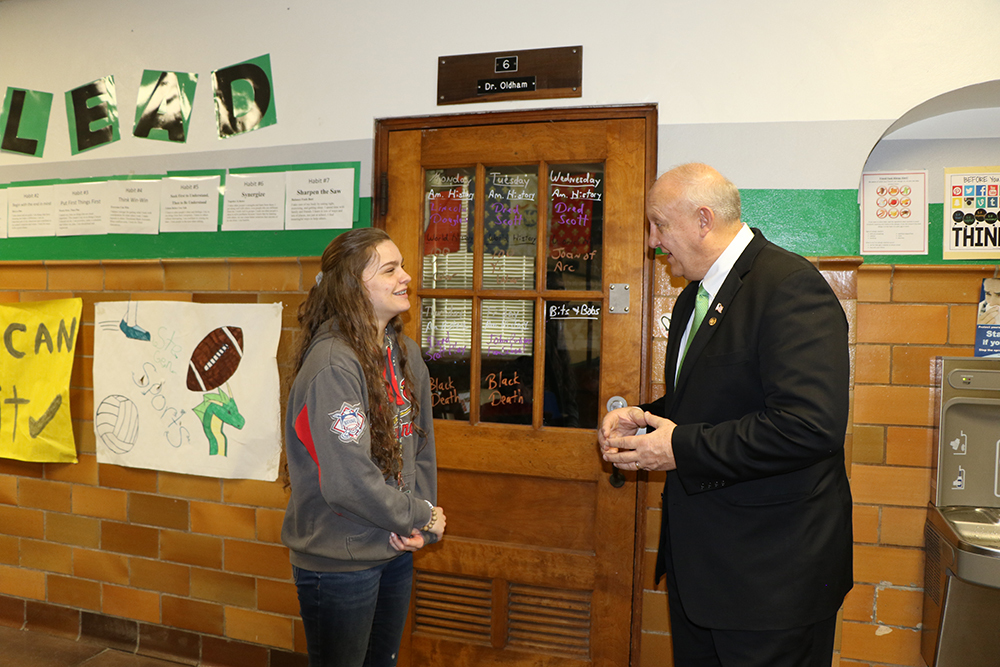 Rep. Dale Wright Visits Ste. Genevieve Middle School
Bailey Otto
Monday, April 08, 2019
Rep. Dale Wright visited Ste. Genevieve Middle School on Friday, April 5, to take a tour of the building and to check out some of the newer technological programming integrated into the school day.
This year in Dr. Rhett Oldham's advisory class, the students have participated in the Adopt an Embassy program, where they meet with various members of the Embassy team via video chat. On Friday, Rep. Wright was also able to sit in on one of these meetings, when the students spoke with representatives from the U.S. Embassy Guatemala.
Not only did Rep. Wright spend time in the classrooms meeting students and listening in on lessons, but he even participated in a lesson himself using the 3-D virtual technology of the z-Space stations in the library. These stations allow students to engage with lessons interactively. Rep. Wright was able to pull up a 3-D human heart on the screen and manipulate its functions.
"There is some great work going on across the state in terms of integrating technology into the classrooms in order to further student learning," Dr. Oldham says. "But here at Ste. Genevieve R-II, I believe that we're one of the best districts in the state in this area, and it's easy to see why. I was more than happy to host Rep. Wright here at SGMS and offer him the opportunity to experience the types of activities our students are doing on a daily basis."