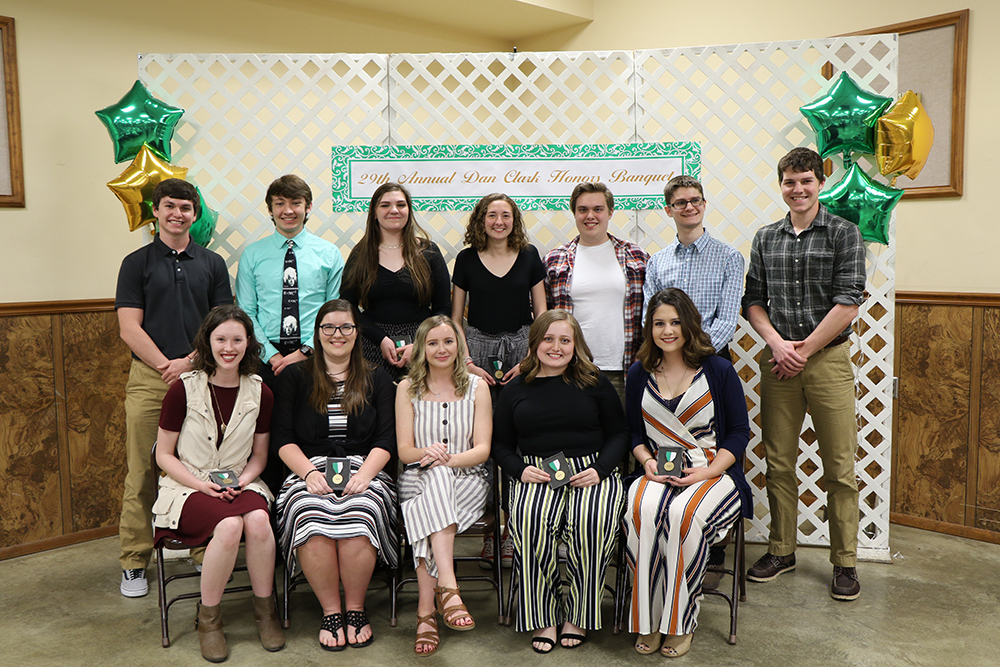 SGHS Celebrates Academic Achievements at Annual Dan Clark Honors Banquet
Bailey Otto
Tuesday, April 16, 2019
On Wednesday, April 10, Ste. Genevieve High School celebrated its students' academic honors for the 2018-2019 school year at the annual Dan Clark Honors Banquet at the Ste. Genevieve Elks Lodge.
At this year's event, junior Bryce Trollinger began the festivities by playing a musical piece on his trumpet: "The Maid of the Mist," by Herbert L. Clarke. Then, the guest speaker for the evening was introduced, Mr. Chris Werner, retired Ste. Genevieve High School teacher and coach. Mr. Werner is an 1984 alumnus of the school district. He taught mathematics classes at the high school for 29 years and coached football, wrestling, cross country and track during that time, along with sponsoring several extracurricular activities. He spoke to the students on the importance of maintaining a focus on their goals, no matter which path they decided to take after high school.
This was followed by a presentation by Mr. Tyson Schaffner, with the Patched Overalls Experience, a project that offers one student each year the opportunity to fulfill a dream experience between their junior and senior year. He introduced senior Emma Flieg, the recipient of the 2018 Patched Overalls Award for the Class of 2019. She shared the story of her journey to a small town near Port Elizabeth, South Africa, where she spent three weeks volunteering at African Dawn Wildlife Sanctuary, an experience that she says helped to shape her future.
Each year at the banquet, the students in the top 10 percent of each class are recognized. Following the class honors, one student is awarded for his or her performance for each course offered at the high school. The lists of these students are included below. Following these awards, senior Abbey Engelmann was also recognized as Cadet Teacher of the Year.
Following the annual awards, senior Danielle Naeger was recognized with a certificate for Outstanding Service from Mr. Craig Hayden, the Director of the Perryville Area Career and Technical Center, for acting quickly, calmly and professionally in an emergency. Danielle is enrolled in the Health Occupations program at the PACTC. On Friday, March 29, a student began to have a seizure on the bus that drives the students to Perryville for classes. Without hesitation, Danielle jumped into action and began to administer first aid to the student. It was through her quick thinking, skills and support that allowed the bus driver and another teacher to act accordingly in handling the situation. Danielle stayed with the student until the medics arrived, and even then, she was able to offer a hand. Her award was more than deserving!
Congratulations to all of the students on their recognitions! Please see the individuals honors below.
Top 10% of Class:
Freshmen:
Casey Ayers
Peyton Bequette
Kaden Buatte
Kylee Clayton
Kaylee Forhan
Serena Garcia
Mason Gegg
Paige Huck
Finnegan Jokerst
Maria Kemper
Russell Kirkhuff
Lily Lueken
Andrew Miget
Abigail Moore
Dezirae Powell
Sophomores:
Virginia Akins
Breanna Boyd
Mariah Boyer
Alison Braun
Sydney Bumgardaner
Katelyn Fuller
Emma Johns
Keaton LaRue
Quentin Ponder
Hannah Reeves
Maci Reynolds
Adalynn Taylor
Alexandria Werner
Annie Yang
Juniors:
Margaret Bauman
Catherine Beck
Christian Boyer
Aiyana Evers
Jaida Greminger
Koby Hatfield
Alyssa Huber
Austin Kuehn
Julia McKlin
Kristen Parmeley
Ella Reed
Michael Ruch
Evan Walker
Seniors:
Abigail Braun
Abbey Engelmann
Samuel Fischer
Makenzie Heifner
Clayton Huck
Miranda Johnson
Lauren Mercer
Sarah Moore
Robert Muffler
Samuel Stolzer
Isaac Watson
Brooke Weiler
Each of the following students (listed alphabetically by surname) earned a medal for outstanding academic achievement in his or her individual class:
Cheyenne Abt, English II
Virginia Akins, Ag Science II
Ashley Armstrong, Business Tech
Jacob Bardo, Power Mechanics
Abigail Bates, English IV
Evan Bess, Advanced Woods
Marie Bethel, Foods
Breanna Boyd, American Government
Mariah Boyer, Chemistry
Christian Boyer, French III
Wyatt Boyet, Digital Media Production
Abigail Braun, Earth Science, College Algebra, Algebra II
Caleb Brewer, Entrepreneurship
Jessica Brown, Photoshop
Sydney Bumgardaner, CP English II, CP American Government
Finn Cavanaugh, Guitar
Katie Chapman, Animal Science
Kylee Clayton, Ag Science I
Geneva Crump, Creative Writing, Play Production
Abby Engelmann, Chorale, Cadet Teacher of the Year
Lucas Fahnestock, Engineering Graphics
Samuel Fischer, Computer Programming, Film
Emma Flieg, Statistical Reasoning
Kaylee Forhan, French II, Health
William French, Auto Tech I
Katelyn Fuller, Competitive Speech & Debate
Logan Gegg, Sports Broadcasting
Joslyn Geisner, Ceramics
Emily Gibson, Algebra I
Emily Grass, Girls Team Sports
Jaida Greminger, Fundamentals of Art
Ashley Gretzmacher, Computer Applications, Nutrition & Wellness, Early Childhood Professions - PACTC
Gavin Gross, Boys PE
Koby Hatfield, CP English III, Spanish III, CP American History, ACT Prep, Pre-Calculus, Trigonometry
Joshua Hayward, Integrated Math III
Chloe Heberlie, Biology
Makenzie Heifner, Anatomy & Physiology
Alaina Hocker, Integrated Math II
Karissa Holst, French I
Alyssa Huber, Accounting I, Drawing
Clayton Huck, Organic Chemistry, Spanish IV
Paige Huck, World History, Girls PE, Geometry
Tyler Huck, Intro to Computer Applications, Physics
Emma Johns, German II
Miranda Johnson, Painting, Mythology
Finnegan Jokerst, Spanish II
Jacob Kamadulski, Body Conditioning
Jared Kenik, Advanced Chemistry, English III
Taylor Kenser, Spanish I
Kyle Kiefer, Woods I
Julia Koetting, Advanced Biology
Lily Lueken, Integrated Science, German I
Samantha Martin, German III
Lindsey Martin, Band, Guitar II
Julia McKlin, Sculpture
Lauren Mercer, Psychology, FACS I
Abigail Moore, Video Production, English I
Sarah Moore, Drafting & Design, Personal Finance
Xavier Moore, Concert Choir
Robert Muffler, CP English IV, German IV, Sociology, Western Civilizations
Kyle Naeger, Fish & Wildlife
Kristen Parmeley, Modern America
Logan Pfaff, Ag Construction, Construction Technology - PACTC
Dale Propst, Intro to Industrial Tech
Hannah Reeves, CP Biology, Journalism
Montana Richardson, American History, Fundamentals of Music
Michael Ruch, Economics
Jonathan Ruebel, Industrial Engineering Technology - PACTC
Kaylee Schmelzle, Publications
Braden Schott, Adaptive PE
Angie Schwartz, World Foods
Morgan Sevier , Contemporary Issues, Child Development
Mary Skaggs, Turf & Landscape
Nicole Smith, Website Design
Emma Springkamper, Media Lit
Aaron Stacy, Boys Team Sports
Samuel Stolzer, Calculus
Bryce Trollinger, Jazz Band
Clayton Jonathon Joseph Vaughn, Auto Tech II, Residential Wiring
Brooke Weiler, Speech. French IV
Deondre Wilson, Show Choir
Apita Wongrasmethong, College Algebra with Applications