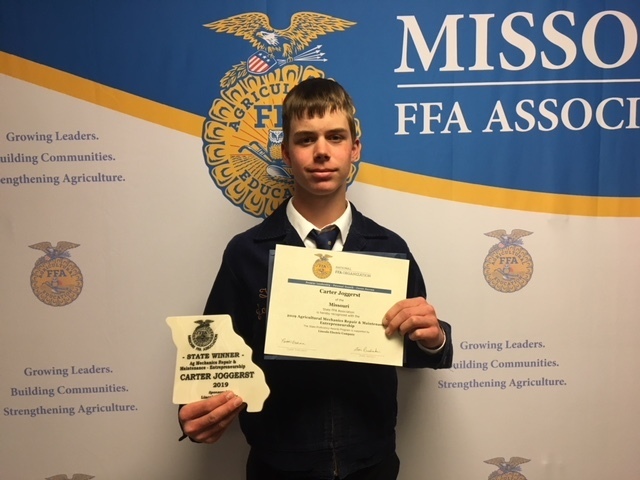 Sophomore Carter Joggerst Takes Home State FFA Convention Award
Bailey Otto
Tuesday, May 14, 2019
Congratulations to sophomore Carter Joggerst, who won the Missouri FFA Agricultural Mechanics Repair and Maintenance Entrepreneurship Proficiency Award at the 91st Missouri FFA Convention!
Carter is the son of Tim and Nancy Joggerst. He is a member of the Ste. Genevieve FFA Chapter. His FFA advisor is Hannah Fritsche-Donze.
Proficiency awards recognize FFA members who excel as agricultural entrepreneurs, employees or volunteers while gaining hands-on career experience. As an organization, FFA helps students develop leadership skills, personal growth and career success through agricultural education.
Carter's supervised agricultural experience program consists of repairing, maintaining and restoring farm equipment at his father's shop. He is responsible in all facets of machinery maintenance, such as problem recognition, disassembly, ordering new parts and reassembly. He started his first tractor restoration at 12 years old when he purchased his first tractor. In addition, he raises livestock and crops.
Carter attended the Greenhand Motivational Conference and participated in the district grasslands evaluation career development event to exhibit his work at the Southeast Missouri district fair.
In addition to FFA, Carter is a member of the Missouri Farm Bureau and honor roll. After graduation, his plans include taking over his father's repair shop and expanding the business.