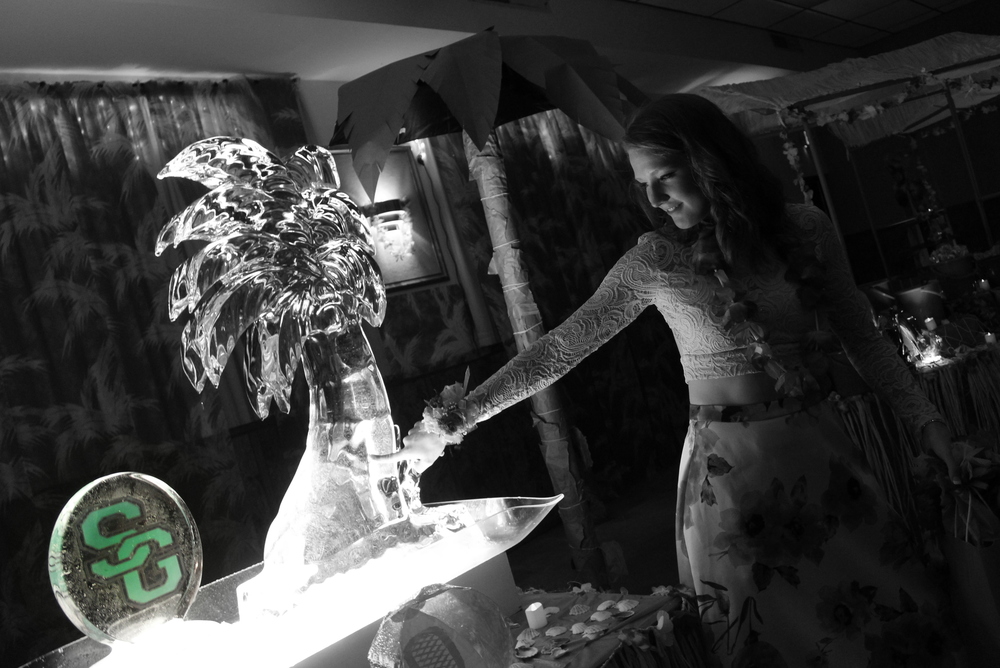 2019 SGHS Luau Prom a Tropical Success
Bailey Otto
Tuesday, May 14, 2019
The Ste. Genevieve High School Luau 2019 Prom was a huge success this year!
From limbo to hula lessons, and sculptured ice palm trees to a dreamy waterfall, the night offered a tropical getaway. Luau 2019 was organized by Class of 2020 and their sponsors Dr. Tracey Eatherton and Dr. Michael Ruch.
Hula lessons were provided by Tropical Fire Hula Dancers, and music was provided by Dr. Ruch and emcee'd by Broc Kreitler. The beautiful flower arrangements were from Buy the Bunch, and the fabulous food creations were courtesy of Marie Bethel, Jocelyn Flentge and Geneva Crump, a few of Dr. Eatherton's students. Country Mart provided construction materials for the decorations. And the students and staff would like to share a special shout-out to junior Gabe Bova who did a fantastic job of helping clean up after the event! Thank you to all who helped make this night a success.
Jesse Pinkley and Julia Koetting were crowned the 2019 Prom King and Queen, and the limbo champions of the night were Jennifer Humbolt and Jesse Pinkley!
The Luau 2019 Prom Court Candidates were: Rylee Huck, daughter of Todd Huck and Angela Smith, escorted by Sam Stolzer, son of Gary and Andrea Stolzer; Shawna Wertman, daughter of Robert and Lisa Wertman, escorted by Clayton Huck, son of Daniel and Heather Huck; Rachael Bauman, daughter of Greg and Rita Bauman, escorted by Jesse Pinkley, son of Steve and Linda Pinkley; Jenna Brown, daughter of Janice and Nicholas Nazzoli, escorted by Sam Fischer, son of Bob and Carla Fischer; Abigail Bates, daughter of Renee Naeger and Isaac Bates, escorted by Chase Koller, son of Jim and Heather Koller; and Julia Koetting, daughter of Joseph and Jennifer Koetting, escorted by Noah Ogden, son of Billy and Amber Ogden.