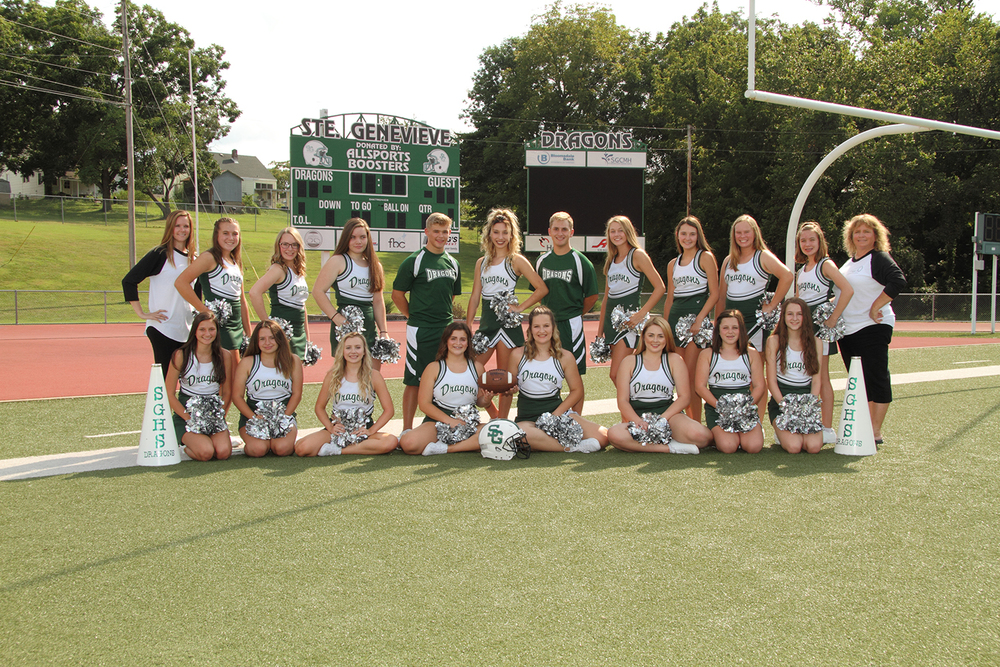 Ste. Genevieve High School Cheerleaders Host Golf Tournament Fundraiser
Bailey Otto
Friday, July 19, 2019
The Ste. Genevieve High School Cheerleaders hosted a golf tournament at the Ste. Genevieve Golf Course on Saturday, June 8, 2019, to fundraise for the upcoming school year. Proceeds from the event will be used to send the team to cheer camp and to purchase male uniforms, warm ups and shoes, along with other expenses. The tournament was a huge success thanks to the wonderful golf teams, the hole sponsors and the businesses that donated items.
First place went to Greg Hilbert, RJ Clemens, Brad Arnold and Rick Sexauer. Second place went to Brendan Dallas, Matthew Drury, Logan Gegg and Clayton Naeger.
The SGHS Cheerleaders would like to thank Chad Schilli and the Ste. Genevieve Golf Course for managing such a smooth tournament. The cheerleaders would also like to thank the following businesses for all of their support:
Antonia Fabricators Inc.; Belle Ever After Boutique; C-Barn, Equipment Pro Inc; High Caliber Graphics; JBJ Investment Properties; JCH Hoses & Fittings; Lakenan Insurance; Mid States Industrial Sales Company; Missouri Alliance Mutual Joe LeClere; Shuh & Sons Plumbing, Heating & AC; State Farm Insurance Laurie Ebeling; State Farm Insurance Meagan Wade; Ste. Genevieve Herald; Ste. Genevieve Vision Care; Tower Rock Stone Company; Traden Post/O Road Storage; Zane Tlapek; Anheuser Animal Clinic, Auto Plaza Ford Ste. Genevieve; Casey's General Store; Dairy Queen Grill & Chill; Debs Says Sew; Drury Outdoors; High Caliber Graphics; Midwest Marketing; Oberle Meats, Rosie's Posies; Ste. Genevieve & Bloomsdale Subways; Teresa Gegg; and Wm Nobbe & Company.