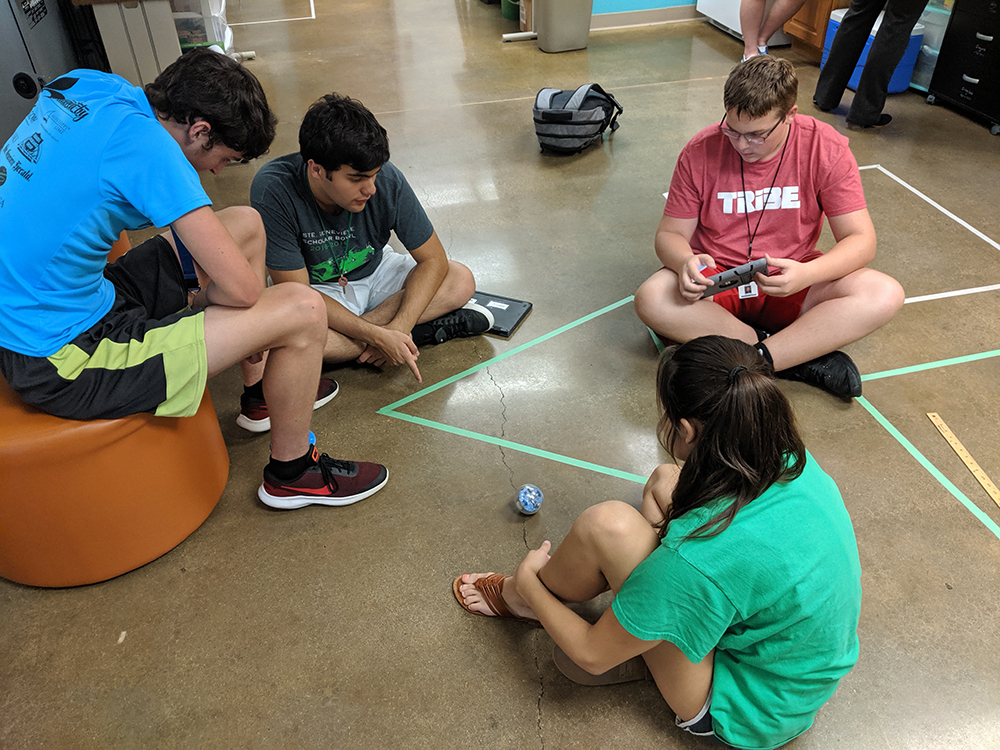 SGHS Students Use Spheros to Focus on Instructions & Collaboration
Bailey Otto
Monday, September 23, 2019
Ste. Genevieve High School English teacher Dr. Jeremy O'Brien was looking to augment his method for instructing students on following directions. When he reached out to Library Media Coordinator Carrie Staffen on the subject, she suggested doing an activity with Spheros in the library and media center.
According to www.sphero,com, "Sphero is a spherical robot toy designed by Sphero. It is a white orb wrapped in polycarbonate plastic, capable of rolling around, changing colors, running programs, and being controlled by a smartphone or tablet."
Dr. O'Brien placed his students into groups, and they were then provided with introductory videos on how to use the Spheros. On the first day, students formulated a plan and then utilized measurements and coding to "instruct" the Spheros to travel on shapes taped to the floor in the library and Projection Room. Throughout the lesson, students had to use both trial and error and listening skills to learn how to set up the code and then adjust it to three different shape challenges. After mastering these three obstacle courses, the student spent the second class period constructing their own obstacle course and utilized their newfound coding skills to make the Spheros complete the new student-designed journeys.
"The activity in the library with the Spheros was a first for me," Dr. O'Brien said. "My students seemed to enjoy the activity. After the two days in the library, they had time to reflect on experience with a few realizations of not only the importance of following instructions, but also the importance of collaborative teamwork."