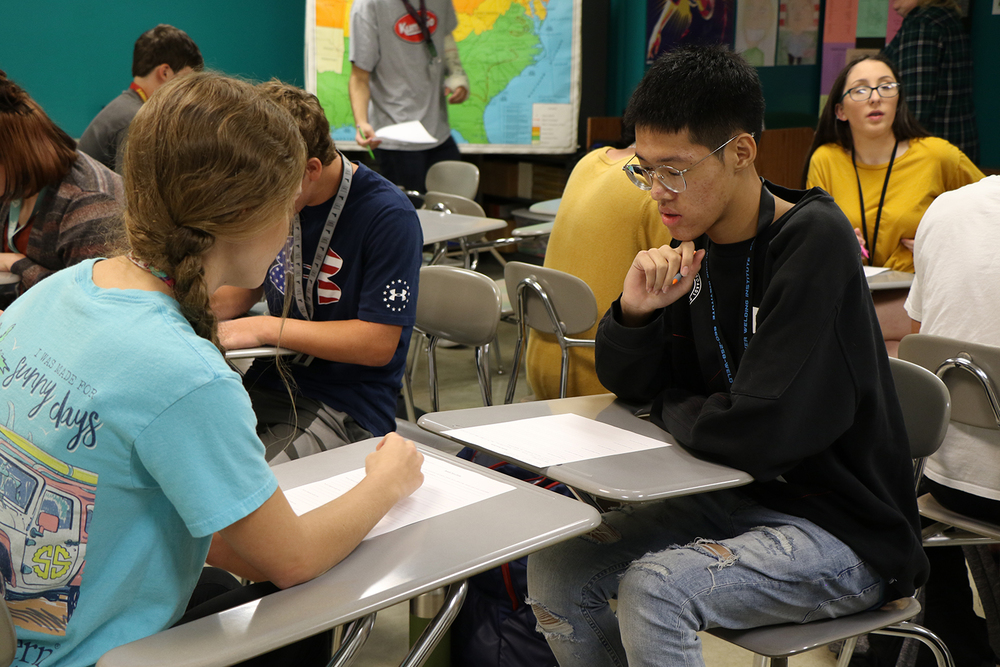 Students Take On Speed News Activity in Contemporary Issues
Bailey Otto
Friday, October 11, 2019
Students in teacher Teresa Merz's Contemporary Issues classes learned just how quick and easy it can be to digest news, even within their hectic schedules. Mrs. Merz set up a "Speed News" activity, where the students had 30 seconds to tell one another a news story before moving on to the next person. The person who heard the news story had to write down as many facts as possible during that time.
After time was up, they debriefed, and she asked them to look at stories from a global, chronological perspective.
"It's important when we're reading these stories that we're looking at where these places are geographically as stories develop," she said. "When you place stories, you see the interconnections between them, when news breaks, the cause and effect of events."
She then went around the room asking students what news stories they heard, along with the who, what, when, where and why of these stories. The students realized that even in the span of a few minutes, they were able to digest several news stories from around the nation and throughout the world. She pointed out that even though we may not have time to read full stories, a headline and the first few sentences can provide enough information to be aware of what's going on in the world.
"From today, we learned that you can't say you don't have time to read the news," she said. "It's easy to catch up on headlines within a few minutes outside of class. And then if your interest is piqued, you'll find time to read more. When you leave this class, will you keep up?"