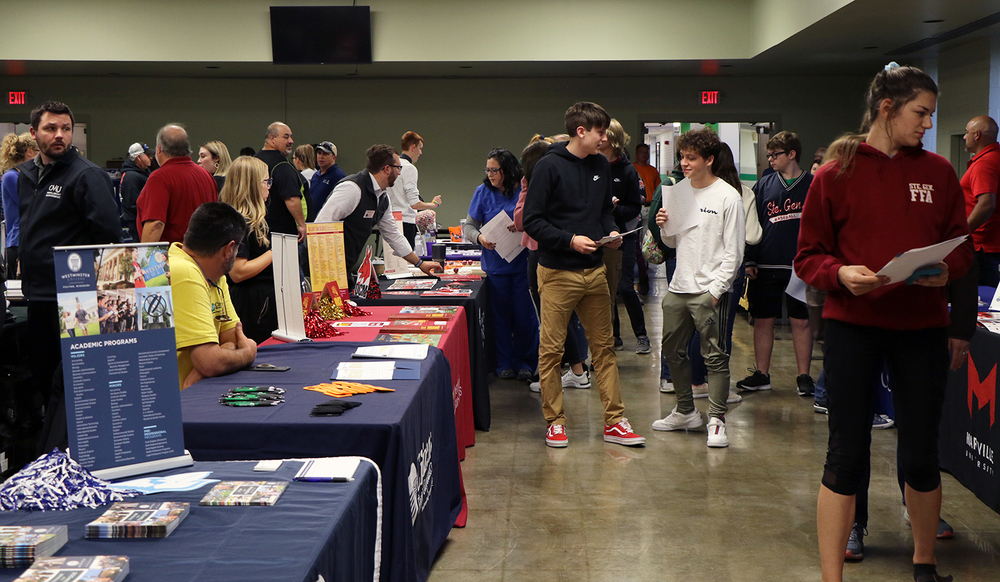 SGHS Hosts Successful First Annual College & Career Fair
Bailey Otto
Wednesday, October 23, 2019
On Wednesday, Oct. 16, a crowd of students, families and community members attended the first annual College & Career Fair at Ste. Genevieve High School. While the high school has hosted a College Fair for the past 11 years, this year, SGHS garnered participation from a wide variety of local businesses and organizations, including some from surrounding counties!
The Ste. Genevieve High School Counseling Department would like to extend a thank you to the following colleges, universities, businesses and armed forces who participated:
Army- Active Duty, Missouri State Highway Patrol, Army - National Guard, Murray State University, BAM Contracting, Navy, Bricklayers Local #1 Union, Quincy University, Central Methodist University, Ranken, Central Missouri University, SEMO ROTC, Citizens Electric, SEMO University, Equipment Pro Inc., Ste. Genevieve County Community Center, First Bank, Ste. Genevieve County Memorial Hospital, Fontbonne University, Ste. Genevieve County Sheriff's Office, Grace Case Youth Renaissance Beauty Academy, Ste. Genevieve Fire Department, Jefferson College, St. Louis/Kansas City Carpenters Regional Council, Lakenan Insurance, St. Louis University, Marines, State Technical College of Missouri, Maryville University, Trendsetters, Mineral Area College, Truman University, Missouri S&T University, University of Missouri - St. Louis, Missouri State University, Westminster College , Mizzou College of Agriculture, Food & Natural Resources, WIOA, Missouri Department of Corrections
One goal of the event was to offer more opportunities to help students explore their choices after graduating from high school, whether they decide to join the military, enroll in college or join the workforce. However, while the high school hosts this event, it is an inclusive, community-wide event, and we hope that next year, even more community members will visit if they are looking for a new career or are interested in planning for the future.
The Ste. Genevieve High School Counseling Department would like to extend an invitation to local businesses to participate in next year's event.