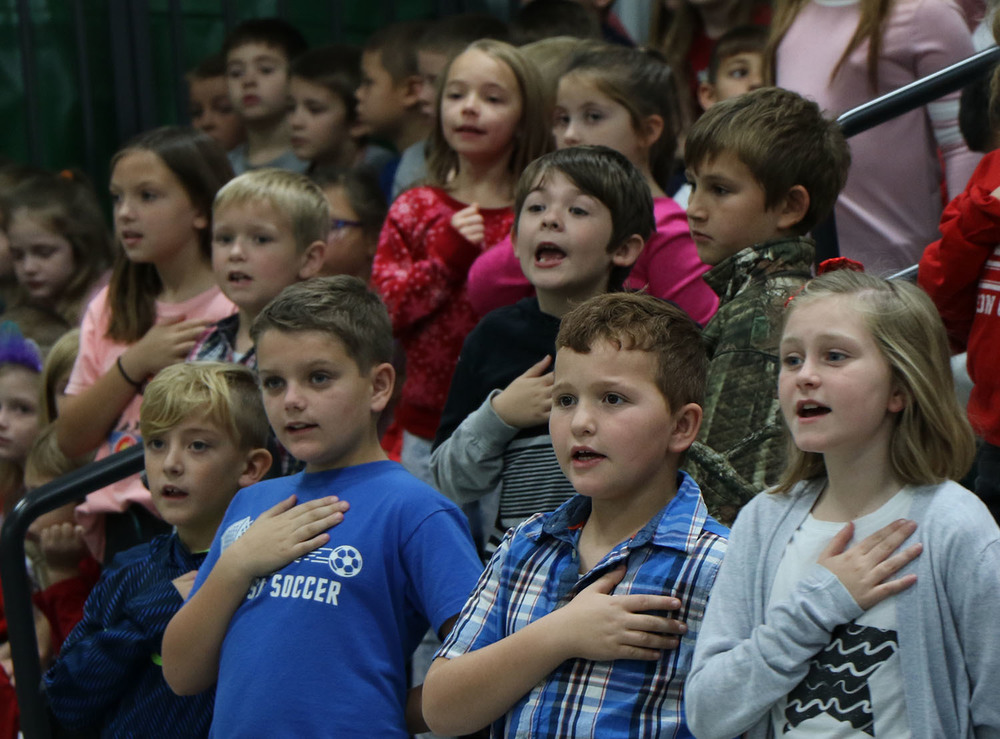 Ste. Genevieve R-II Honors Veterans & Service Members Through School Programs
Bailey Otto
Monday, November 11, 2019
The Ste. Genevieve R-II School District honored veterans, active military and their guests last week at both the Bloomsdale and Ste. Genevieve campuses. Bloomsdale Elementary hosted their Veterans Program on Tuesday, Nov. 5, Ste. Genevieve Elementary held its program on Thursday, Nov. 7 at the Performing Arts Center, and high school and middle school Veterans Day Tribute ceremony was held on Friday, Nov. 8 at the high school. All local veterans were welcome, and students personally invited veterans as their guests, as well.
At both elementary school events, every grade level had a role to play in the programs, whether it was through speaking, participating in the White Table Ceremonies or performances. Each veteran and active military member was recognized by having their name and the relationship to a student announced. At Bloomsdale Elementary, the Community Outreach lead group presented an acronym for America, and at Ste. Genevieve Elementary, the Signing Dragons lead group presented the Pledge of Allegiance in American Sign Language.
Students in both elementary schools participated in a contest to show their appreciation for veterans who have served our nation. The contests were hosted and judged by Ladies Auxiliary members Sharon Giesler and Lois Flieg, who presented the students with prizes from the VFW Post 2210. Thank you to the VFW Post 2210 and the Ladies Auxiliary for recognizing our students with these gifts!
Bloomsdale Elementary students participated in an essay contest, and the winners included:
Preschool - Aleah Terry (1st), Chloe Dorris (2nd), Iris Schwent (3rd)
Kindergarten - Brynlee Berkbigler (1st), Rogann Zuspann (2nd), Grace Warren (3), Mia Stoll (4th)
First Grade - Claire Dorris (1st), Emmie Dorenkamp (2nd), Trey Roth (3rd)
Second Grade - Rylan Malone (1st), Nolan Wolk (2nd)
Third Grade - Noah Aubuchon (1st), McKinnley Vogt (2nd), Charlotte Mees (3rd)
Fourth Grade - William Elder (1st), Clara Carlson (2nd), Aniston Cremer (3rd)
Fifth Grade - Clementine Birkenstock (1st), Ella-Grace Gasner (2nd), Andrew Casteel (3rd)
Ste. Genevieve Elementary students participated in a coloring and art contest, and the winners included:
Preschool - Camden Kreitler (1st), Lydia Jokerst (2nd), and Hazel Scoggin (3rd);
Kindergarten - Sophie Wolk (1st), Zoey Grass (2nd), and Monroe Kelley (3rd);
1st Grade - Rein Linsin (1st), McKenzi Amschler (2nd), and Elly Kettinger (3rd);
2nd Grade - Kindall Coleman (1st), Trusten Fite (2nd), and Letty Adams (3rd);
3rd Grade - Sydney Nesslein (1st), Addison Wilson (2nd), and Nevaeh Polly (3rd);
4th Grade - Ava Zerwig (1st), Gabi Watts (2nd), and Kimberly Banderas (3rd);
5th Grade - Kathryn Herzog (1st), Olyvia Beckerman (2nd), and Dylan Cash (3rd)
The Veterans Day Tribute at the high school included:
performances by the middle school and high school bands
a keynote by guest speaker retired staff sergeant Scott Johnson who was introduced by his daughter and SGHS senior Ingrid Cervantes
patriotic commentary from senior Nolan Klump, who has enlisted in the Delayed Entry Program in the United States Air Force
graphics and videos created by the SGHS Broadcast Team and Dragon's Lair Productions featuring clips from students and Ste. Genevieve R-II alumni service members stationed around the world, and
SGHS senior Bryce Trollinger's performance of "Taps" and a three-gun volley in memory of veterans who have died.
SGHS would like to thank the middle school and high school bands for their contributions; the Student Veterans Assembly Committee (Skyler Forrester, Madison Viox, Haley Irwin and Molly Bahr) for planning the event; the SGHS Broadcasting Team, FCCLA, FFA, SADD, SGHS & SGMS Student Councils, Dragon's Lair Productions, the SGHS boys and girls basketball program, the football program for planning and executing the program; and the students and staff for their attention and participation. SGHS would also like to thank the Veterans Home Care, Rozier's Country Mart, Cafe Genevieve, Ste. Genevieve McDonald's, Jodi Flieg, Oberle's Meats and Parkwood Meadows Senior Living for their sponsorship today.
Before the Veterans Program began at the high school, Ste. Genevieve Middle School and Ste. Genevieve High School hosted a luncheon for veterans prepared by the Family, Career and Community Leaders of America chapter members with contributions from local business sponsors mentioned above.