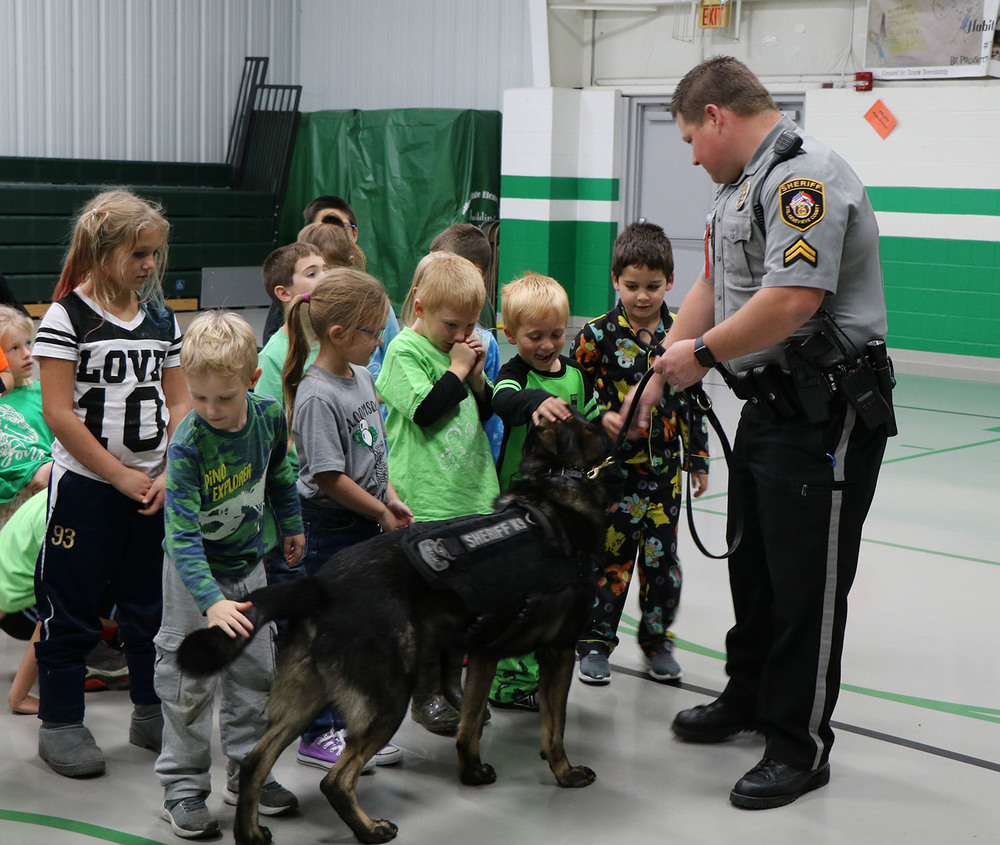 Ste. Genevieve R-II School District Promotes Red Ribbon Week
Bailey Otto
Friday, November 15, 2019
Ste. Genevieve R-II School District celebrated Red Ribbon Week from Oct. 28- Nov. 1. This year's theme was "Send a Message. Stay Drug Free." This theme encourages us all to speak out to our students and community about making healthy choices and emphasizes the importance of making decisions with the future in mind.
Throughout the week, students and staff participated in activities that promoted healthy decisions. On Monday, students, staff and community members wore red in support of addiction awareness and drug/substance abuse prevention. Tuesday was Wacky Shoe Day to "Kick Drugs to the Curb," Wednesday was Camo Day to "Be Hero… Stay Drug Free," Thursday was Comfy/Pajama Day to "Follow Your Dreams… Be Drug Free," and Friday was Green & White Day to "Take Pride in Being Drug Free."
This year, speaker Cary Trivanonich was invited to present to middle school and high school students on Monday in the Performing Arts Center and share his inspiring drug awareness message.
Students in the high school club Students Against Destructive Decisions volunteered to assist in presentations around the elementary schools throughout Ste. Genevieve County, including Bloomsdale Elementary, Ste. Genevieve Elementary, St. Agnes School, St. Joseph's School in Zell, Valle Catholic Schools, and preschools and daycares throughout the county. These students included: Emily Abt, Sam Brewer, Katelyn Fuller, Serena Garcia, Grace Robinson, Emily Skaggs, Shaun Uzzell, and Emily Zahner.
At the assemblies, preschool through fourth grade students, watched an animated video about safe decision making. They then had a chance to meet Corporal Ochs and his K-9 partner Ares. Corporal Ochs talked about their work as a team and how Ares is specially trained for police work, including being certified in narcotic searches and apprehension. Officer Cusanelli and his K-9 partner, Mario, also assisted in educating our students in their police work and making safe choices. Many Ste. Genevieve City and County law enforcement officers assist in the programs and in making the week a success.
Bloomsdale Elementary would like to spotlight their group of third graders who volunteered to help plan Red Ribbon Week at their school. The students also met after the week had ended, in order to debrief and create an evaluative chart that will help guide future Red Ribbon student leaders!
The Ste. Genevieve R-II School District would like to thank Mrs. Kristen Huffman for coordinating the events this year, along with the Ste. Genevieve County Sheriff's Office, the Ste. Genevieve Police Department and the Ste. Genevieve County Memorial Hospital for their work in helping to reiterate and share the message to stay drug free. We would also like to thank local businesses and community members for supporting this program and spreading the message to make healthy decisions.