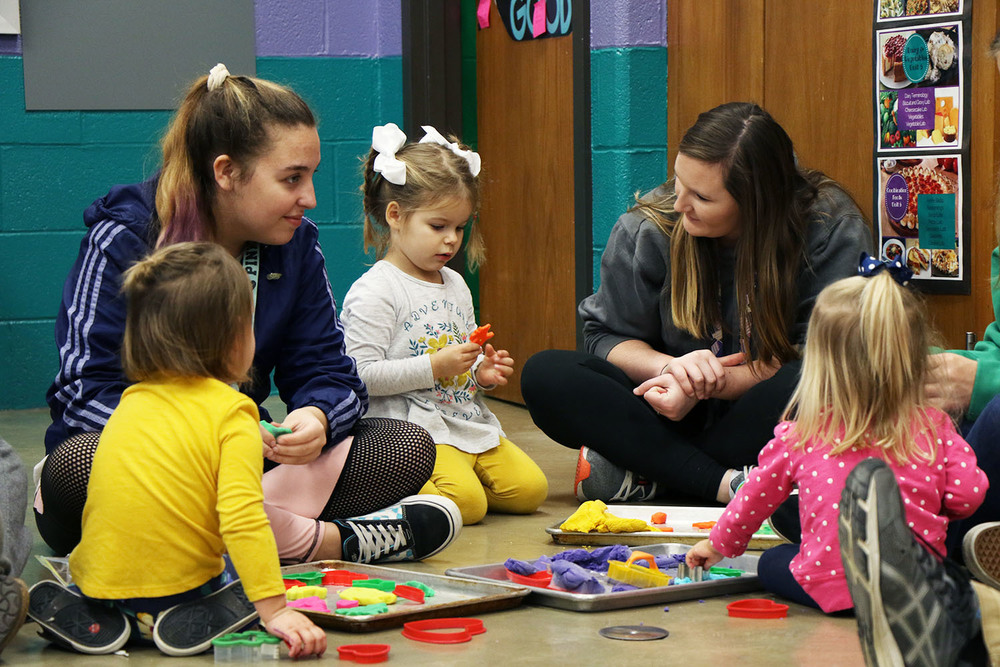 SGHS Child Development Class Hosts Second Annual Toddler Day
Bailey Otto
Friday, December 06, 2019
Students in Family and Consumer Sciences teacher Dr. Tracey Eatherton's Child Development class were excited to host the second annual Toddler Day on Nov. 20, from 9:50 to 10:25 a.m.
The class invited community members with toddlers to visit the high school for some fun, safe toddler activities. In Dr. Eatherton's Child Development class, students learn about the factors that influence the growth and development of children, factors that impact parenting decisions and strategies for positively promoting development in children from ages birth to six, along with learning about careers related to children.
Junior Gracie Odem plans to become a pediatrician. She says the high school students brainstormed what type of activity stations to do with toddlers during their visit, which included playing with balloons, crawling through tunnels, creating hand turkeys out of feathers, stringing macaroni necklaces, playing in tents and forts and making creations with Play-Doh and cookie cutters.
Grace and junior Emily Zahner both said that they had expected the toddlers to be a little shy and take time to warm up to the high school students, but that definitely was not the case.
"We didn't expect the toddlers to let loose and play with us right away," Emily says. "They didn't know us before they came to the classroom, but they immediately wanted to do all of the activities. Most of them did the full rotation, and they were so talkative!"
The students will be visiting the Ste. Genevieve Elementary Preschool soon to spend time with those students in their classroom.