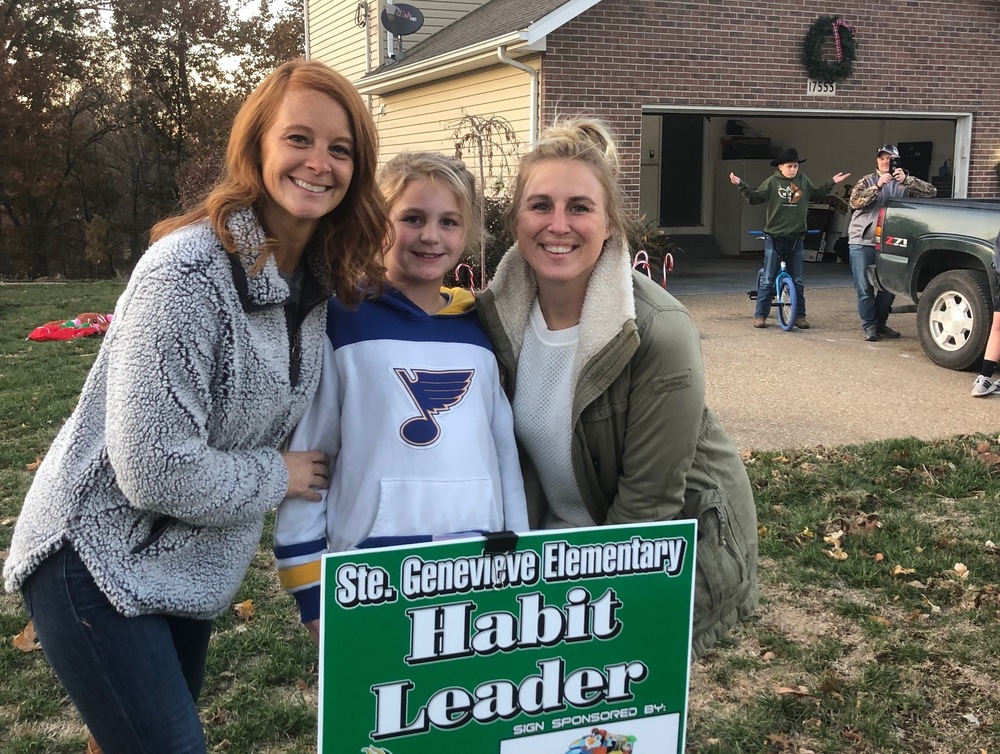 Ste. Genevieve Elementary Celebrates Habit Leaders with Surprise Visits
Bailey Otto
Friday, December 27, 2019
This year, Ste. Genevieve Elementary decided to begin a new tradition of surprising the students recognized as Habit Leaders by visiting them at home with a yard sign to celebrate!
The teachers take a tour to the students' homes by trolley, dropping by to share the good news with their students. These students are chosen as Habit Leaders by living and learning the 7 Habits of Highly Effective People each and every day! They show tremendous leadership, follow expectations and lead the way for their peers. Congratulations to the first group of Ste. Genevieve Elementary Habit Leaders chosen for their behavior during first quarter!
The students who were chosen as the second quarter Habit Leaders will be surprised at home on Jan. 3, 2020, when the teachers will once again jump on the trolley to make their visits!
"Ste. Genevieve Elementary would like to thank the following local groups and businesses who sponsored the Habit Leader Signs and Trolley program at Ste. Genevieve Elementary; their dedication to our students and community is appreciated!
High Caliber Graphics

Environment Products Inc.

Ste. Genevieve Vision Care

Mid America Barnwood

Reclaimed Concepts

River Rapids Waterpark

Bloomsdale Excavating

Flieg's Equipment

Oberle Meats

R & K Excavating

It Works (Elisha Gegg)

Lurk Custom Cabinets

Riverside Landscaping

Kelly Fallert Realtor

Dance Express & Tumbling

Farm BureauBuddy's Place

Basler Funeral Home

Ste. Genevieve County Memorial Hospital

Kona Ice

CE Contracting Inc..

Mid America Rehab

Potential Therapy

Shamrock Donuts

Brieg Farms

El San Felipe

SGE PTO

Ste. Genevieve Trolley

B&D Telecom
Congratulations to the first group of Habit Leaders (Not in order): Laney Jokerst, Gracie Mills, Chloe Hill, Chase Donze, Kanaan Kwan, Mason Hurst, Rein Linsin, Brooklyn Gibbar, Nora Bryant, Chevy Davis, Kimber Dielschneider, Harrision Williams, Emmelyn Clayton, Lexie Grither, Monica Fallert, Bailey Rayoum, Noah Kertz, Abbey Stomberg, Mabrey Jokerst, Chad Wright, Khloe Ellis, Reece Pecaut, Halle Wichern, Dayton Weiler, Kailyn Warren, Lexie Rayoum, Qwintin Purvis, Kierstyn Reeves.