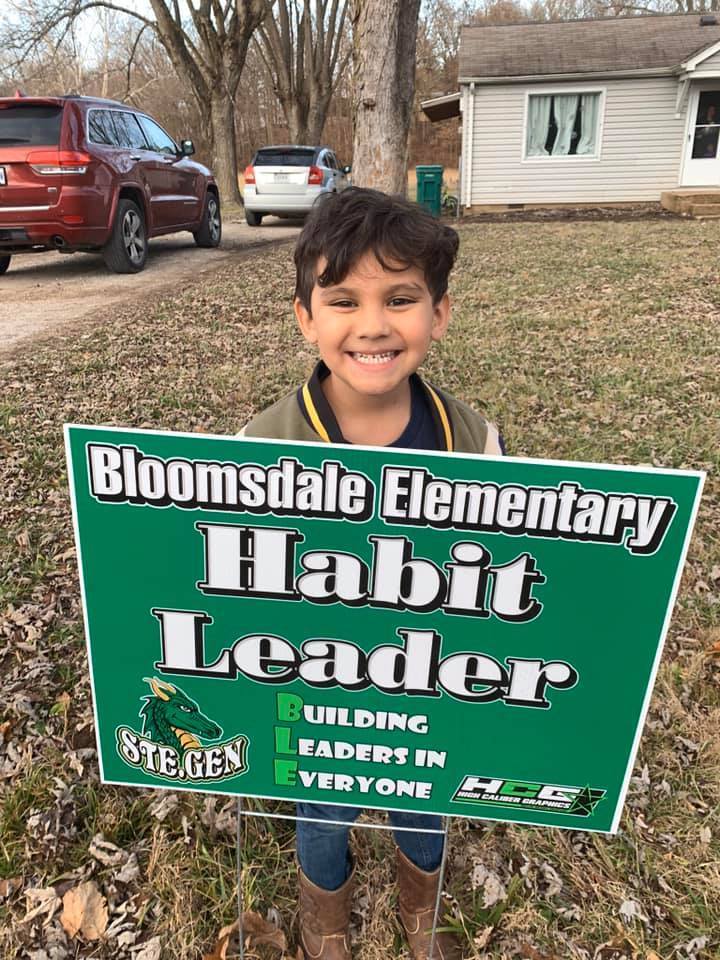 Bloomsdale Elementary Hosts Habit Leader Ceremony
Bailey Otto
Tuesday, March 10, 2020
Bloomsdale Elementary held their Habit Leader Ceremony on Nov. 25, 2019, just a few days after surprising their Habit Leaders by visiting them at home with yard signs to celebrate!
One student from each classroom was chosen as a Habit Leader for demonstrating Habit #1: Be Proactive and Habit #2: Begin With the End in Mind. These habits are part of the Leader in Me program, which helps develop students' leadership skills through proven classroom techniques and social emotional learning systems.
During the ceremony, 38 students were honored and were presented with a medal and a t-shirt. Superintendent Dr. Julie Flieg was the guest speaker. The two events were organized by the Shared Leadership Action team at Bloomsdale Elementary.
The school would like to thank High Caliber Graphics for creating the Habit Leader signs, and would like to thank the following sponsors for their support: MidStatesEnergy, ST Gear and Machine LLC, Equipment Pro, JS Dunnigan Truck Line, Drury Contracting, Little Explorers, Gansner Excavating and Grading, Dust Demolition By Dee, Ste. Genevieve Vision, Dale Printing and Packaging, Lewis Plumbing, Witz Contracting, Stemler Farm, Critter Barn Kidz Care, Miss Lisa's Dance Express LLC, Mill Hill Car Care, Custom Differentials, Co-Products Specialists, Farm Bureau, Chrissy Gettinger, David Bova and the Crocker Family.