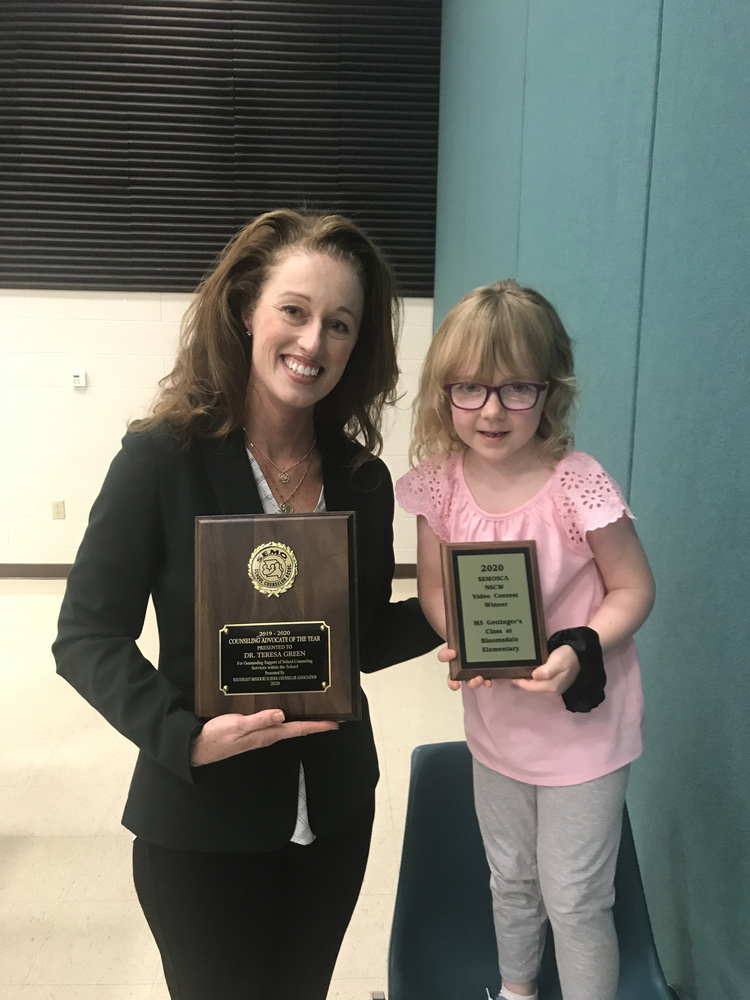 Student Services Director & Bloomsdale Elementary Kindergarten Class Recognized by Southeast Missouri School Counselor Association
Bailey Otto
Monday, April 20, 2020
At a Southeast Missouri School Counselor Association meeting on March 13, Director of Student Services Dr. Teresa Green was recognized as the 2019-2020 School Counseling Advocate of the Year! Also at the event, kindergarten teacher Ashley Gettinger's class from Bloomsdale Elementary won a video contest for a video they created for their counselor Amy Rowland for School Counselor Week. The district would like to congratulate Dr. Green and the students on their recognitions!
Dr. Green has held the position of Director of Student Services for the past six years. Mrs. Rowland nominated Dr. Green for the award, sharing that as the Counselor Coordinator, Dr. Green has been a wonderful advocate for school counseling. "Dr. Green has taken the time to learn our profession," Mrs. Rowland said. "She has reached out to the Department of Elementary and Secondary Education (DESE) to learn more about the needs of school counselors. She understands the social and emotional impact on children and supports our counseling team in our strategies for addressing this."
Dr. Green also shares information and updates about the counselors' work in Board of Education meetings and supports the counselors in newsletters, addressing technology and incorporating mindfulness into their curriculum.
"Not only does Dr. Green have the dedication and drive to advocate for our students who need the most support, but she also has a thorough understanding of the processes and systems in place that can sometimes make this work frustrating and difficult. Her knowledge of these areas is incredibly beneficial when trying to navigate issues and create solutions," Assistant Superintendent Dr. Paul Taylor said.
Kindergarten student Alice Seabaugh represented Ms. Gettinger's class at the meeting. The group of students were honored for their video at the meeting with a plaque, a $100 gift card for the school from Amazon and a $50 gift card to Marcus Theaters.