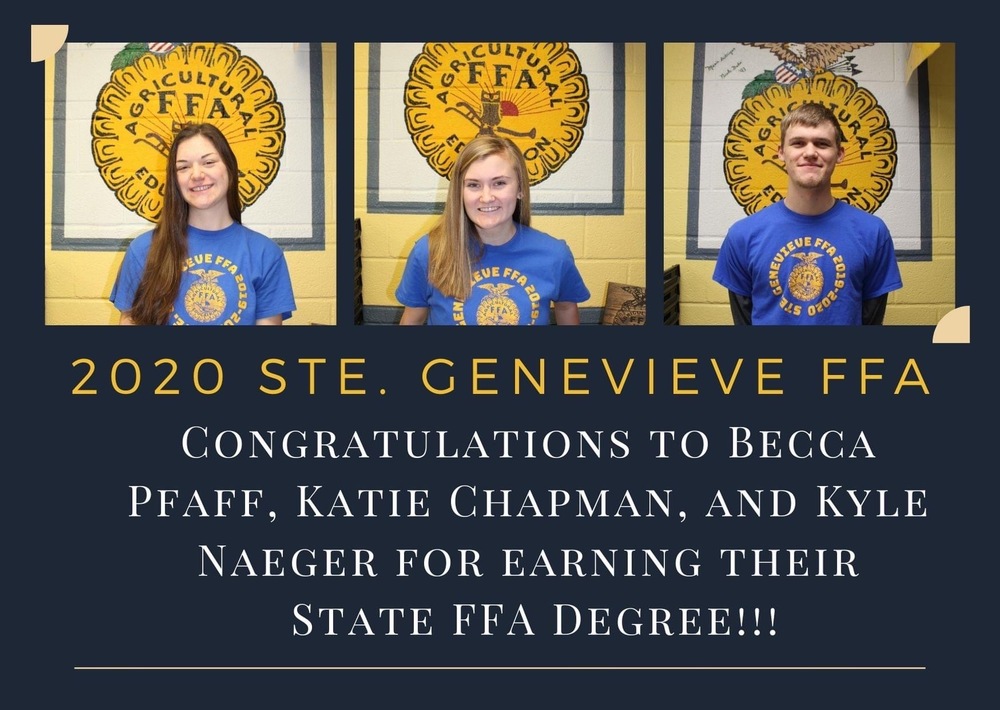 Missouri State FFA Recognizes Ste. Genevieve FFA Chapter for Awards Virtually
Bailey Otto
Friday, May 01, 2020
Had school been in session last week, many members of the Ste. Genevieve FFA would have been packing their bags and heading off to Columbia, Missouri, for the State FFA Convention. The students would be participating in the contests, receiving their proficiency awards, performing state talents, representing our chapter as a delegate or receiving their State FFA Degree. However, while Missouri State FFA had to make the difficult decision to postpone the 92nd State FFA Convention,, the organization worked to find a solution that honored members and chapters in a positive way. During the week of April 20, the organization shared video releases prepared by the 2019-2020 State FFA Officers announcing the contest winners.
Congratulations to our twelve First Place Area 15 Proficiency Award winners representing the Ste. Genevieve FFA Chapter below!
Agricultural Mechanics Repair & Maintenance Placement - Dylan Joggerst
Agricultural Processing - Dakota Carron
Agricultural Sale Entrepreneurship - Sean Schmieder
Diversified Crop Production Placement - Cole Romann
Equine Science Entrepreneurship - Jessica Rayfield
Forage Production - Leo Gegg
Forest Management - Cody Schilli
Fruit Production - Braxton Joggerst
Service Learning - Jacob Boyer
Specialty Animal Production - Ava Springkamper
Swine Production - Zach Burr
Turf Grass Management - Kaleb Roth
Area Star in Placement - Kyle Naeger
Congratulations to three students who earned their State FFA Degree this year: Rebecca Pfaff, Katie Chapman and Kyle Naeger
Missouri State FFA plans to host a convention later in the summer (in person or virtual) to focus on recognizing the achievements of members and chapters.