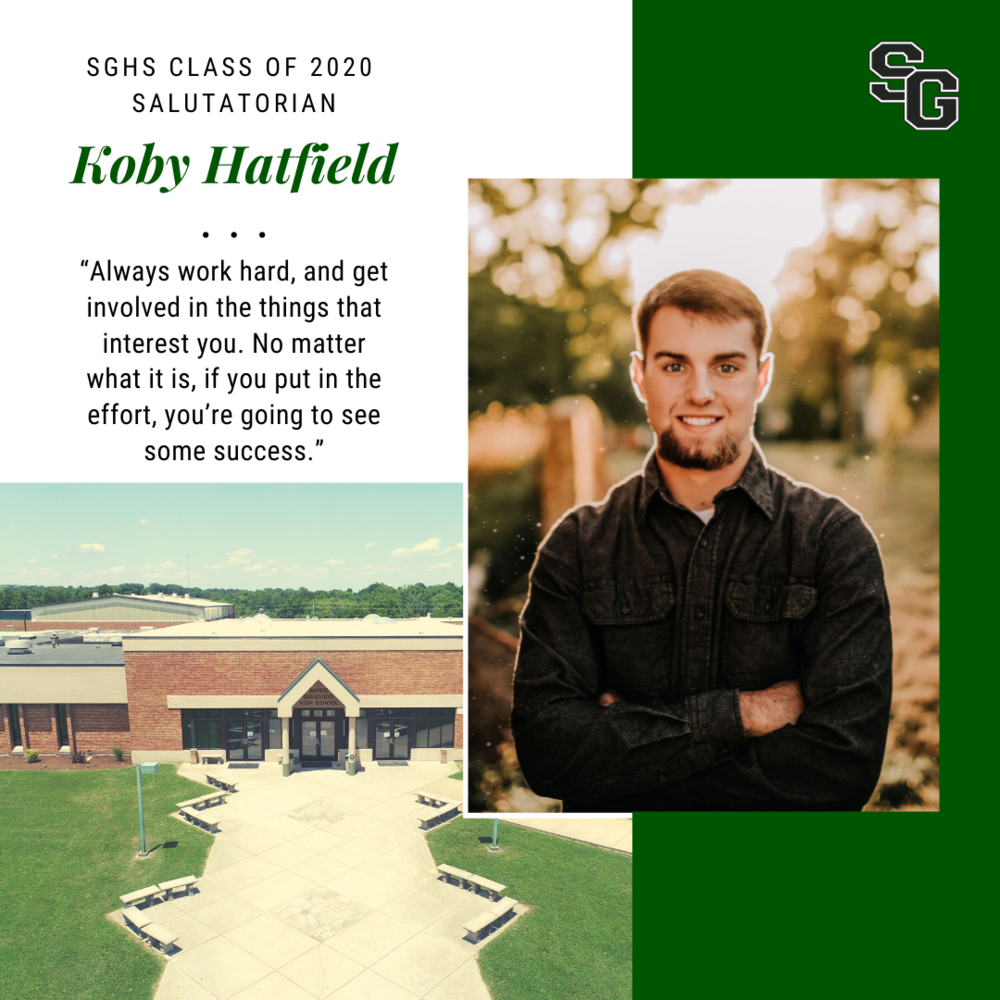 SGHS Presents Class of 2020 Salutatorian Koby Hatfield
Bailey Otto
Thursday, May 28, 2020
Ste. Genevieve High School is proud to announce our Class of 2020 Salutatorian, Koby Hatfield! Koby is the son of Tiffany Langeneckert and Christopher Hatfield and step-son of Adam Langeneckert.
Koby plans on attending Truman State University in the fall to pursue a degree in Economics. He was chosen to attend the 2019 American Legion Boys State of Missouri program, which invites students to develop their leadership skills through going through the motions of governmental processes. This experience solidified his interests in Economics. "The concept of how money works, how it affects us—that's what interests me about the field," he says.
During high school, Koby earned A Honor Roll every semester and a spot in the Top 10% of his class each year, along with winning numerous class awards, including: including CP English II and III, Spanish II and III, CP American History, Advanced Algebra II, Trigonometry and Precalculus. Koby has also been involved in a number of clubs and organizations, including National Honor Society (where he served as president), the Math Team, Spanish Club, Future Teachers of America, Spirit Club and the Principal Advisory Group. Koby was also chosen to attend Missouri Leadership Seminar.
Koby was a member of the SGHS football team, where he was selected All-Conference honorable mention linebacker and as a member of the Academic All-State football team. His senior year, he was selected First-Team All-Conference linebacker and First-Team All-District linebacker. He was also chosen to receive the Most Valuable Defensive Player award. His experiences on the football team are times that he will remember the most—he is especially proud of his team for their performance and teamwork throughout this past season.
In his free time, Koby enjoys hanging out with family, his girlfriend and his friends, playing the guitar and video games, lifting weights and playing sports. He balances academics, work and his personal life by focusing on what needs to be done and putting effort into everything he does. "What motivates me the most is the thought of my life in the future," he says. "That, and wanting to do my best to make everyone happy and proud."
Koby would like to thank all of those who have offered support and guidance, because each and every one of them had a part in making his experience great. To underclassmen, Koby would like to share: "Always work hard, and get involved in the things that interest you," he says. "No matter what it is, if you put in the effort, you're going to see some success."