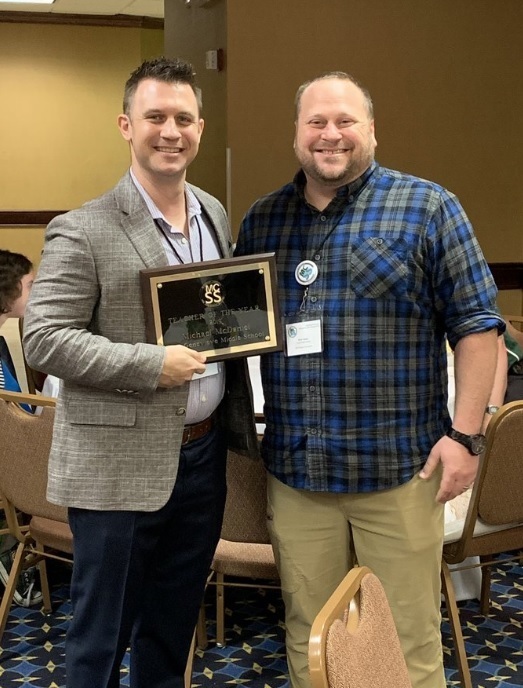 SGMS Social Studies Teacher Named Missouri Council for the Social Studies Teacher of the Year
Bailey Otto
Friday, March 22, 2019
Congratulations to Ste. Genevieve Middle School social studies teacher Michael McDaniel for being recognized as the 2019 Teacher of the Year by the Missouri Council for the Social Studies (MCSS).
Mr. McDaniel has been a part of the Ste. Genevieve R-II team for the past 15 years. He teaches American History I, American History II and Current Events, and serves as the chair of the history department. Since beginning his teaching career with SGMS, he has also served as the head baseball coach for the Ste. Genevieve High School team.
In the classroom, Mr. McDaniel has worked to integrate curriculum that highlights new technology. As a lifelong learner of history, Mr. McDaniel strives to share that enthusiasm with students by showing them new ways to connect to history in today's digital age.
"We at SGMS are not only proud of the great honor Mr. McDaniel has received by earning this award, we are also happy that his title can serve as a conduit through which other educators can see the great things going in our school, and in particular, in Mr. McDaniels' classroom," Principal Dr. Scott Mercer says.
Mr. McDaniel is a member of MCSS and presents for the group, along with working as a consultant for curriculum development at the Ste. Genevieve Museum Learning Center.
In order to introduce students to the history of their hometown area, Mr. McDaniel has worked with community leaders to organize:
an annual Civil War Day with the local Sons of Union Veterans encampment;
the Time Traveler's club that works in collaboration with the County Clerk's office to conduct building-wide mock elections; and
the implementation of National History Day at SGMS.
Congratulations to Mr. McDaniel on this well-deserved award!