Parents & Guardians: "Hidden in Plain View" will be on Sept. 19 at the DuBourg Centre. This adults-only event includes an exhibit (6-8 p.m.) and presentation (6:30 p.m.) on spotting signs of alcohol or drug use at home. More info:
http://bit.ly/2mhJ1hH

SGHS students and parents are invited to Costa Rica in July 2020! A Parent Meeting will be held Tuesday, Sept. 17 at 5:15 p.m. in Mrs. Yamnitz's Room (222) in the SGHS Science Hallway, or email
dyamnitz@sgdragons.org
. RSVP to the meeting at
http://rsvp.eftours.com/cjzcp4j
.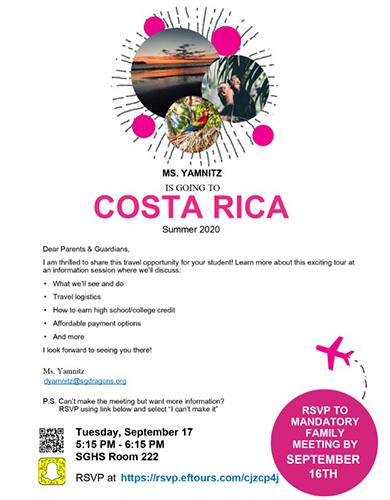 For students involved in MSHSAA-sanctioned activities: For the 2020-2021 school year, the SG R-II summer/fall dead period (no contact) for athletics and activities will be Aug. 1 - 9. The first allowable fall practice day will be Monday, Aug. 10.

In an effort to help students make better choices, SG R-II is implementing a new process for mandatory, random drug testing of high school students participating in MSHSAA-sanctioned activities. For more info, please visit
https://sites.google.com/sgdragons.org/sportssite/home

Project Graduation is holding a fundraiser selling custom Fat Head cut-outs that can be used for celebrations or sporting events. Each cut-out is $15 each. See the flyer for examples and more information.
http://bit.ly/2ZpUsp8

The SG R-II district strives to implement measures that increase the security of our schools. This year, we are introducing Ident-A-Kid, a new visitor management program. Check out how it works below!
http://bit.ly/SGR2IdentAKidVid


SGMS Open House is this Thursday (8/22) any time from 6:00p-8:00p. Avoid the rush and arrive late if you'd like! Please enter next to the SGMS main office. Meet our crew, see the building, and be treated to some snacks and prizes. We look forward to seeing you!

Important Message: A fraudulent phone call sent from 853-4500 claims to be from SG R-II. Check your email, or see more info here:
http://bit.ly/2Z3yqbT

Important Message from Dept. of Social Services: If your child has had health insurance coverage through MOHealthNet, it is possible that their coverage has been terminated. Click for info on how to check your child's coverage and fill out the application:
http://bit.ly/33tN4Zf

SG R-II is hosting a public hearing to discuss the 2019-2020 budget and proposed tax rate on Aug. 20 at 7 p.m. in the R.W. Thomas Library on the SG R-II campus:
http://bit.ly/2019-20TaxRate

REGISTRATION REMINDER: Completing online registration before attending our on-site events is important! See your summer mailer for instructions, and don't forget the nurse's Student Health Profile.

Sixth Grade Transition Program is Thursday from 8:30-12:30. Seventh Grade Registration is Wednesday 1:00-3:00 at your leisure. Eighth Grade Registration is Wednesday 9:00-11:00 at your leisure. All registration events take place in the Old MS Gym.

The SGHS Open House will be held on Wednesday, Aug. 28, at 6 p.m. The date for this event is listed incorrectly in the August Dragons Digest. Please update your calendars to reflect the correct date and time! Thank you!

SGHS softball girls are having a fundraiser at Buddy's tomorrow from 11 a.m. - 7 p.m. They will be serving and cleaning tables for a percentage of the sales. Please come out and support the softball program!

Parents & Guardians: Please take a few minutes to complete the Communications Survey below by next Wednesday, May 29. The survey is anonymous and will allow us to better support SG R-II communications in the fall. Thank you!
https://www.surveymonkey.com/r/SGParentsCommSurvey1819

The last day of school is officially Tuesday, May 28. Students will be fed lunch and released at 1 p.m.

Sports physicals for the 19-20 school year are available at school this week on Wednesday for only $15. The hospital donates this money to the school. To book a time, call 883-4500 ext. 2103.