The Varsity Baseball Dragons beat Central to advance to the District Championship tomorrow at 5:00 vs. Valle Catholic at Yanks' Field! Score was 7-1. Way to go, Dragons!

The semi-final baseball game vs. Central has been moved up an hour to a 5:30 start following a 3:30 start for the other semifinal game. Admission is $5.00 a person. See you there!
Boys track medalists: T. Bader(1600-1, 800-2, 4x8-1, 4x4-4), N. St. Clair(1600-2, 4x8-1, 4x4-4), D. St. Clair(3200-1, 4x8-1, 4x4-4), L. Wiegand(4x8-1, 4x4-4), M. Gegg(3200-4), A. Irwin(4x2-4), J. Schwent(4x2-4), A. McBride(Disc-4, 4x2-4), E. Ogden(4x2-4). Way to go boys!
Girls track medalist: J. Kemper(Shot-4). Awesome performance by the girls track team!
Girls track medalists: M.Aubuchon(100h-1, 300h-1, HJ-3, 4x4-1), M. Reynolds(100h-3, 300h-3, 4x4-1), M. Flieg(Jav-1, 4x4-1, 4x8-3), J. Wehner(4x4-1), C. Carlson(4x8-3, 3200-4), G. McKlin(4x8-3), A. Braun(4x8-3), K. Holst(PV-4), M. Myracle(Disc-1), E. Heller(Shot-1, Jav-3).
Congratulations to the girl's track team for a 3rd place finish and to the boy's track team for a 5th place finish at the Class 3, District 1 Track Meet on Saturday! Also, congratulations to Megan Aubuchon for breaking the school record in the 100m hurdles with a time of 14.59.

Congrats to SGHS Head Wrestling Coach Jared Bonnell for earning the Class 2 Sectional 1 Coach of the Year Award! Well deserved!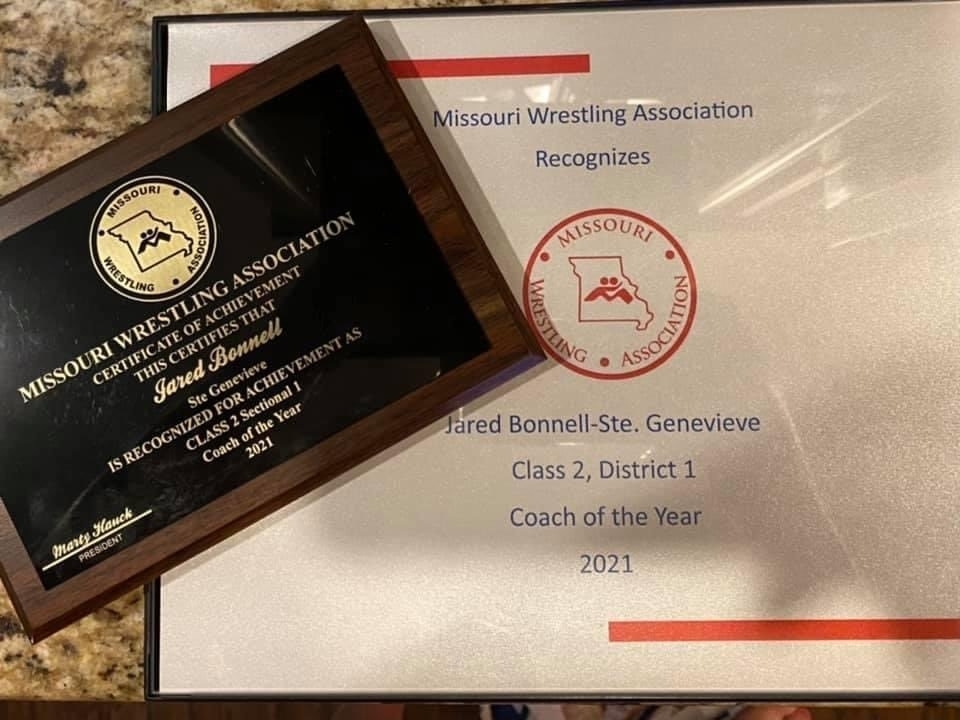 JV Baseball drops their final game of the season to St. Pius by a score of 6-5. Good season, fellas!

Varsity Boys Baseball wins on Senior Night over St. Pius by a score of 5-3. Senior Nathan Selby throws a complete game to help the Dragons to a victory. Way to go, Green!

Congrats to Jon Robinson for earning the Missouri Basketball Coaches Association Assistant Coach of the Year Award! Very well deserved!

Varsity Baseball falls to Cape Central in the bottom of the 7th by a score of 3-2. The Dragons fought hard and showed great composure and sportsmanship in the loss. Final regular-season game and Senior Night tomorrow. Go Dragons!

Varsity Boys Golf took 3rd overall as a team with a score of 367 out of 15 teams at the District Tournament. Three golfers qualified for State. Luke Basler with an 85, Bryce Barley with a 91, and Grant Weiler with a 95. Congrats, Dragons, and good luck at State!


The Dragons Baseball team fell to Farmington 9-1 in the Conference Tournament Championship to finish 2nd place. Good tournament, fellas!

Varsity Baseball plays for the Conference Tournament Championship tonight vs. Farmington at Farmington at 6:30. $4 admission for adults and $2 for students. Go Dragons!

Varsity Baseball defeated Valle Catholic 4-1 behind a complete-game pitching performance by Quentin Wittkopf! Great game, Dragons! They will now play in the Championship tomorrow at 6:30! Opponent and location is TBD!

SG Golf took 1st in their Tri-Match against West County and Arcadia Valley with an overall score of 163. Landon Rose and Bryce Barley tied with their personal best with a 38. Great job, Green!
Congratulations to the boys and girls track teams as both finished 2nd this evening at the SGHS Thrower's Meet! Individual medalist included: Marysa Flieg (Jav-1), Austin McBride (Disc-4), Etta Heller (Shot-2), Dalton McBride (Jav-2), & Dale Propst (Jav-3). Way to go!!

In a great game, Ste. Gen battles Potosi but comes up short 3-5 in the district semi-finals. Congratulations on a record breaking season ladies!!! Special thank you to our seniors and Coach Toombs!!! You all will be missed!! #loyalandtrue

Varsity Baseball wins their quarterfinal game of the MAAA Tournament 8-4 over AV. Way to go, Green!