8th Grade Boys Bball with a good win over a solid Herculaneum team by a score of 36-21. Nice game!

7th grade boys bball wins at Herculaneum! Score was 32-23. Great game, fellas!

Varsity Wrestling falls to Sullivan 34-33, and defeats N. County 41-36 to go 1-1 on the night. Great job, fellas!
Varsity Boys Basketball falls to Hillsboro by a score of 49-66.
Junior Varsity Boys Basketball falls to Hillsboro 44-55.

8th Grade Boys Basketball over Jefferson 60-21 to stay perfect on the season at 5-0. Great game, fellas!

7th Grade Boys Bball with an exciting come-from-behind win over Jefferson 29-28! Now 4-1 on the season! Great hustle, boys!
Freshmen Boys Basketball defeats Hillsboro by a score of 48-44. Great hustle boys!

Varsity Girls Basketball: In the valley, Ste. Gen falls to Arcadia 61-72.

JV Girls Basketball: In a very close finish, Ste. Gen over Arcadia Valley 32-30. Way to keep fighting ladies!!!

MS Wrestling at Jackson- 13 schools Bryant Schwent 1st Gage Gross 1st Will Hogenmiller 2nd Nathan Johnson 1st

Lucas Smith- 7th, Grant Staffen- 5th, Noah Ogden- 5th, Nathan Selby- 7th, Andrew Wolk- 6th, Josh Schmidt- 6th, Christian Hale-6th, Ty Brown- 7th, Gavin Gross- 3rd, Dalton McNeal- 2nd, Jacob Dickens -3rd, Clayton Vaughn- 3rd. Way to go, guys!

Congrats to the Varsity Wrestlers for finishing 4th out of 26 teams at the Union Tourney!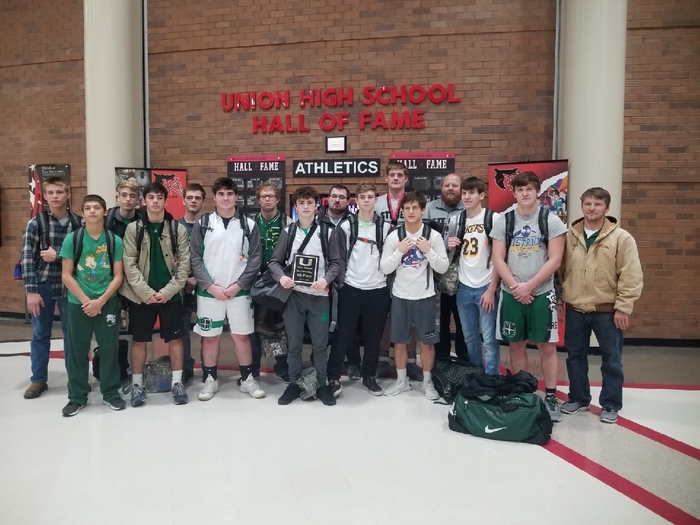 Congrats to Clayton Vaughn for earning Class 3, 3rd Team All-State Offensive Lineman! Well deserved, Clayton!

Varsity Boys Basketball holds on for a win over Valle by a score of 66-63! Great team win, fellas!!

JV Boys Basketball played their 5th game of the week and finish with a win over Valle by a score of 55-35! Woo!

7th Grade boys basketball improved to 3-1 last night after a 20-19 win over Arcadia Valley. Way to go, fellas!

In a great varsity wrestling match, Ste. Gen tops Cape Central 40-34. Way to go Dragons
Girls Varsity Basketball defeats West County in the final second 64-63. Exciting win!
Girls JV Basketball falls to West County 18-44. Keep working hard girls!